In today's article, we'll be showcasing the 10 most powerful stun guns on Amazon that will send any wannabe attackers a message they won't soon forget! Stun guns fulfill a very specific need in the self-defense market space that many manufacturers have rushed in to fill, but which stun guns will provide you the best possible protection and give you the peace of mind you so rightly deserve?
We've always seen stun guns and tasers as the ideal less-than-lethal option to be used in situations where a firearm might be considered "overkill" or for those who don't feel confident enough to carry a loaded weapon on their person.
We truly believe having access to a stun gun, taser, or pepper spray is a whole lot better than having to resort to a knife, fists, or nails in any potential self-defense scenario. No matter what you decide to carry for your own personal protection, training with that weapon is paramount if you want to master the art of self-defense and live to fight another day!
---
What Are The Most Powerful Stun Guns On Amazon?
We've built a list of the 10 most powerful stun guns we could find on Amazon representing the best value and having the most satisfactory reviews to help save you some time and research. In a sea of sketchy power claims, we've discarded all of the voltage numbers and show you the 10 best Amazon stun gun options in order of their rating. When stated by the manufacturer, we include the actual effective power charge that the device is capable of in terms of either "microcoulombs" or "milliamperes". (Read more here)
Without further ado, here are the top 10 most powerful stun guns of 2023 on Amazon (this is a quick list for those in a hurry but will be followed up by a more in-depth breakdown of each one with our pros and cons and final takeaway.)
Let's break down our top 10 most powerful stun guns on Amazon from the list above one at a time to give you the pros and cons of each of them, as well as our final key takeaways!
---
#1 The SABRE Self-Defense Kit: Stun Gun w/Flashlight & Pepper Spray
The SABRE self-defense kit is our number one choice we recommend to all of our family, friends, and readers when they ask us our opinion. We all know people that may not be comfortable handling a firearm in a self-defense situation and it may end up doing them more harm than good. That's where this awesome kit comes into the equation since it not only comes with a very respectably-powered stun gun but also a small canister of high-pressure pepper spray both made by the very reputable SABRE company.
As you can see from the power rating above, this SABRE stun gun delivers the goods when it comes to delivering the pain! So long as the attacker can feel pain, this stun gun should do a number on him… or at the very least, cause their large muscle groups to spasm, causing a brief paralysis that will buy you some time to get out of dodge!
The pepper spray that SABRE makes is some of the best you can get and is always a good idea because if the attacker has a knife or a bat you don't want him getting close enough to use it on you! The stun gun only works up close and personal- which is not what you want in this scenario. Shoot a blast of pepper spray in their face and head for the hills!
Pros:
Up to 35 bursts of pepper spray with a 10′ range
Level III stun gun delivering an incredibly painful charge
Rechargeable internal battery that should last up to 2 yrs
2-year warranty on the stun gun
Budget-friendly self-defense combo
Cons:
The strap and holster are not the best quality and may break
Some units may have defects but can be replaced for free
Not the highest build quality
So… what's our final takeaway?
Overall, we'd have to say we really like this SABRE combo if you're on a tighter budget. It has many thousands of positive reviews and a majority of buyers are happy with their purchase. Some units may present defects, but that is to be expected in this price range. On the plus side, Amazon has a great return policy- just in case. If you've got a better hand strap and holster, you should definitely use those instead of the one provided!
1.250 µC w/ Pepper Spray!
SABRE Pepper Spray & 3-in-1 Stun Gun
EXTREME STOPPING POWER: Stun gun delivers a painful 1.250 µC (Microcoulombs) charge to help defend against an attacker
Anti-Grab Bar Technology shocks an attacker if they try to take the stun gun away from you
Check Latest Price On Amazon
We earn a commission if you make a purchase, at no additional cost to you.
12/02/2023 04:48 pm GMT
---
#2 The ZAP Light Rechargeable Stun Gun w/ Flashlight
Our premium choice for the most powerful stun guns on Amazon is made by ZAP. This stun gun advertises a very High Voltage and doubles as a flashlight (or short baton) which is always nice to have as a source of light that can potentially blind the attacker momentarily leaving you with some extra time to escape or follow up with a stun charge to the body.
Pros:
Built-in battery that's fully rechargeable in just 4 hours
Solidly built and rugged construction
Has a very loud, intimidating, spark that will end a lot of attacks before they begin
Volts & µC are strong enough to penetrate multiple layers of clothing
The 2-in-1 design incorporates an LED flashlight with 6 spiked electrodes for a wider contact zone
2 micro coulombs of extreme stopping power
The battery can typically last 3-5 years if used frequently and ever longer with infrequent use
Cons:
At 6.5″ long & 2.5″ in diameter, it takes up a lot of space in a purse and it's too big to conceal in a pants pocket but may fit in a large coat pocket
It is heavier than the more concealable stun guns
It's a bit pricey but justifiably so in our opinion
So… what's our final takeaway?
Definitely, a great choice if you want a long-lasting stun gun/ flashlight combo that you can store in a purse or glove compartment. If you can afford to spend a bit more money on personal protection, this is a great option that should not disappoint!
High-Quality & Heavy-Duty!
Light Rechargeable Stun Gun with Flashlight
QUALITY - ZAP IS THE #1 STUN GUN ON THE MARKET FOR QUALITY, DEPENDABILITY, AND DESIGN.
ZAP offers protection like no other. Other companies offer stun guns with false high-voltage claims, giving the consumer a false sense of security
Check Latest Price On Amazon
We earn a commission if you make a purchase, at no additional cost to you.
12/02/2023 04:50 pm GMT
---
#3 The SABRE Stun Gun w/120 Lumen Flashlight- 1.6 µC Power Rating
With 4 separate colors to choose from, this SABRE model is a solid stun gun option with great stopping power potential and low cost. Most attackers will not be able to withstand the pain this sucker will bring to the table! A couple of safety switches have been incorporated to ensure that you don't accidentally find out for yourself how bad this stun gun can hurt!
Pros:
Intimidating 95 dB zapping sound will deter most
Bright 120 Lumen LED flashlight can help disorient from a distance
Built-in safety switches to prevent accidental discharge
A fully enclosed internal battery can be recharged many times over
Super affordable price ensures the greatest bang for your buck
Cons:
Not the highest build quality, but that's to be expected at these prices
May get a dud from time to time but returns are your friend
Expected battery life of up to 1.5-years if you're lucky
So… what's our final takeaway?
These SABREs are definitely great little stun guns that pack one helluva punch for the money! Like many things, stun guns are consumables so our advice is to get several as backups since they're so cheap to buy. Also, carry some pepper spray as a fail-safe and you should be good to go!
1.6 Microcoulombs of Power!
SABRE Stun Gun with Flashlight
EXTREME STOPPING POWER: Stun gun delivers a painful 1.60 µC (Microcoulombs) charge to maximize your self-protection when faced with an attacker; the safety switch prevents accidental discharge.
A rubberized grip helps to secure your hold on your stun gun
Check Latest Price On Amazon
We earn a commission if you make a purchase, at no additional cost to you.
12/02/2023 05:06 pm GMT
---
#4 The VIPERTEK VTS-989 Heavy Duty Stun Gun
This VIPERTEK stun gun is our favorite budget choice that will grant you the peace of mind you desire to ward off any would-be attacker or send him to the ground should he persist.
"This paid for itself.

I decided to walk to a nearby bar at 1:30am.

This creepy guy started following me. I took a couple odd turns and he followed me each time. I turned around and buzzed the tazer he took right off."

Alexandra
Pros:
A bit more concealable than our first option making it a better choice for carrying on your person
Absolutely fantastic price-point and bang-for-you-buck are unbeatable!
The High-Voltage audible crackle is a great deterrent
Comes with spiked electrodes for easy penetration through heavy clothing
A fairly quick 4-hour charge cycle
Cons:
It will need to be replaced every 2-3 yrs due to battery degradation (not much of a con at this price though!)
Still a little large at 6.5″ long so it's not as concealable as others on this list
A bit on the cheap side build-wise but should easily last its full life cycle if properly treated
So… what's our final takeaway?
VIPERTEK makes some very affordable stun guns that are super effective during their somewhat limited lifespan of 2-3 yrs. You can squeeze a bit more life out of them if you can limit the number of times you fire it in the open air and never for more than a second or two just to verify that it's fully charged and working properly. The best part is, at just $21 and some change, they're super cheap to replace!
Best Seller!
VIPERTEK VTS-989-Heavy Duty Stun Gun
ULTRA SHARP SPIKE ELECTRODES: Helps penetrate through thick clothing.
COMPACT SIZE: 6.5" long x 2" wide x 1". This stun gun also comes with a free wrist strap & holster case for easy everyday carrying.
Check Latest Price On Amazon
We earn a commission if you make a purchase, at no additional cost to you.
12/02/2023 05:12 pm GMT
---
#5 The Mace Brand Hight Voltage Ergo Stun Gun
This Mace-branded stun gun is a nice companion to their very effective pepper sprays and delivers a painful stun upon contact with an assailant. Comes with a built-in LED flashlight to help you see in the dark and blind any attacker temporarily. A built-in battery can be recharged many times so no additional battery purchases are required.
Pros:
Lots of features for the price
LED light to aid in finding your way in the dark
An audible and visible spark from the electrodes is an effective deterrent
Built-in battery that stores many charges
Reputable Mace brand quality
Rubberized texture provides a solid grip
Cons:
Fairly low-budget plastic construction
Higher likelihood of receiving a dud at these prices
Some complain that the spiked electrode screws may loosen so you may need to add some thread lock
So… what's our final takeaway?
This stun gun offering from Mace may be a good deal if you receive a fully-functional unit. This tends to be true for a lot of the lower-budget models but thankfully Amazon has a great return policy!
---
#6 The SABRE Tactical Series 2.517 µC Stun Gun w/LED Flashlight
This is the most powerful tactical stun gun flashlight combo that SABRE sells, delivering a painful 2.517 µC (Microcoulombs) of charge to the body of any attacker dumb enough to find out! This is our top pick if you're just wanting the most powerful option you can buy on Amazon. Not everybody wants a flashlight stun gun combo but if like having more useful features stuffed into a fairly small and unassuming package then this one will get the job done!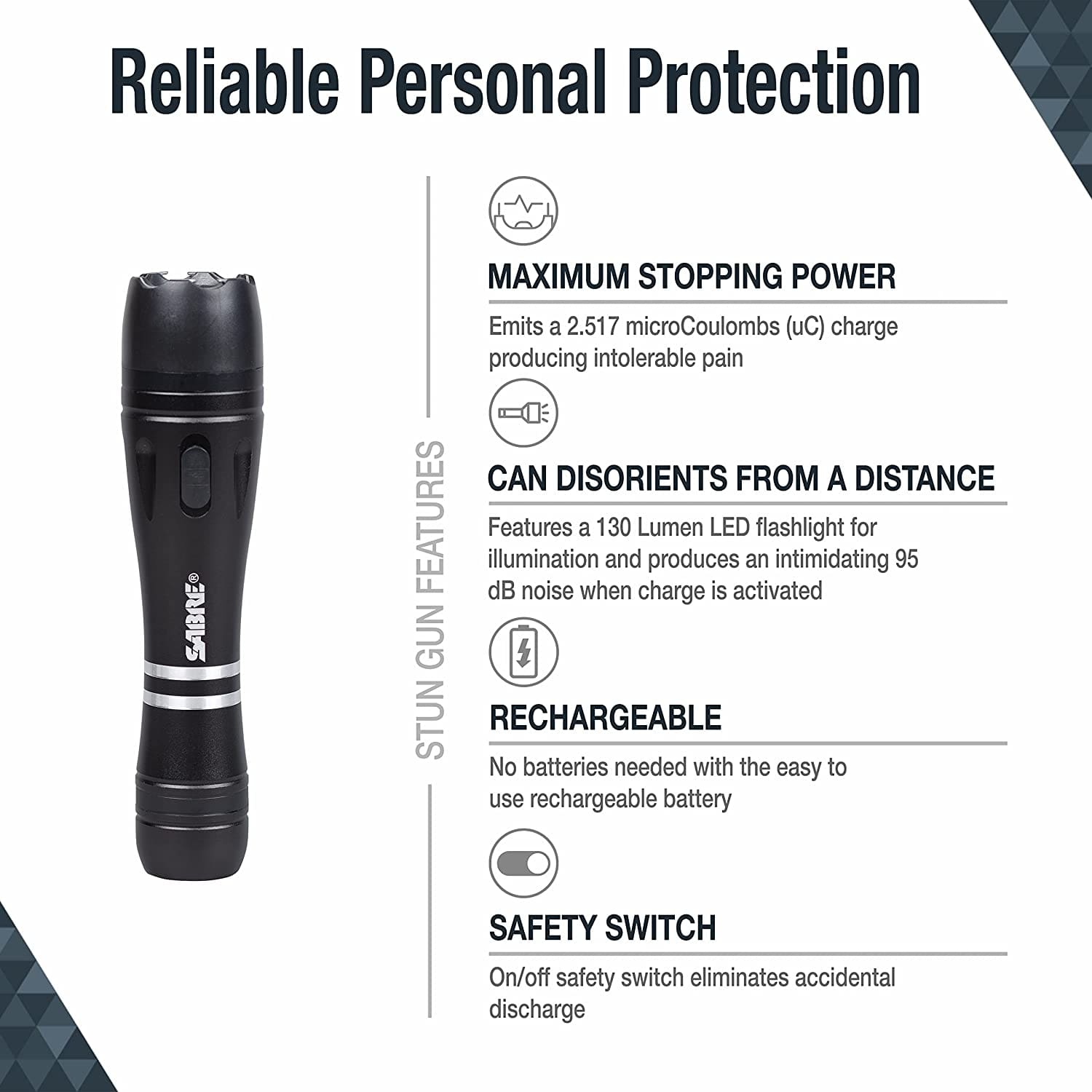 Pros:
Delivers on the pain with 2.517 µC (Microcoulombs) of power
2-year warranty by SABRE or free returns on Amazon for up to 30 days
Well-built aluminum frame and belt holster
Fits easily in a purse or glove compartment or drawer
Long-lasting internal battery that provides ample power
The 95 dB discharge from this stun gun will put the fear of God into most
Cons:
Takes 12 hrs to charge
130-lumen LED isn't really bright enough to blind an attacker
Could use a lanyard strap for better retention due to its slick surface
So… what's our final takeaway?
We are big fans of this SABRE offering and think it would be a great option for those looking for a dual-purpose weapon that is discrete when you want it to be and alarming when you push the button.
2.517 µC of Pain!
---
#7 Guard Dog Diablo 2 Tactical 1.4 mA Stun Gun & LED Flashlight
The Guard Dog Diablo 2 is unique on this list for using a large 18650 rechargeable lithium battery that can actually be replaced when it eventually loses its ability to hold a charge (which probably won't happen for at least a couple of years, if not more). This makes this powerful stun gun less of a disposable option.
"Our stun guns are 1.4 milliamps, which is higher than all or almost all stun guns on the market"

Guard Dog Company
Pros:
10,000 real Volts at 1.4 mA of power
About 50+ 2-3 second bursts per fully-charged battery
Large lithium battery that is replaceable
330 Lumen LED flashlight that is brighter than most
LED diode has a 100,000-hour life
Impact-resistant type III aircraft aluminum is rugged and durable
Lifetime warranty
Cons:
May need a battery upgrade if you want the best performance life
Maybe some defective units at this price point (returns are easy though)
No fully-charged indicator
So… what's our final takeaway?
This is one of our favorite options due to its replaceable lithium battery, which is something we would replace with a quality 18650 lithium cell ASAP. This will ensure the best possible performance and battery life. You're pretty much stuck with the batteries that come built-in to most of these stun gun/ flashlight combos.
Doubles As A Flashlight!
Guard Dog Diablo 2 Stun Gun
Strong: maximum voltage stun gun provides reliable protection when you most need it.
We have included a 18650 rechargeable battery to save money on batteries.
Made with aircraft-grade aluminum alloy type III
Check Latest Price On Amazon
We earn a commission if you make a purchase, at no additional cost to you.
12/02/2023 05:35 pm GMT
---
#8 VIPERTEK VTS-881 Micro Stun Gun Pink
You might think an $11 stun gun must be a joke but you'd be the butt of the joke if you were to take up the challenge of being incapacitated by this cheap-looking pink humble-maker! Yes, you can actually buy an effective stun gun for just $11. It may have a shorter overall lifespan but at these prices, they shouldn't be considered anything other than a consumable commodity like a pack of batteries or gasoline. It may be hard to believe but these VIPERTEK VTS-881 super cheap stun guns work- I've seen the videos!
Pros:
Comes with a built-in LED to help you see in the dark
The loud arcing spark sound acts as a deterrent and will intimidate most attackers to think twice
The powerful shock will incapacitate any would-be attacker when contact is made
Very small, portable, and concealable so it's easy to store in a purse or pocket
The built-in battery allows you to charge it via the retractable socket prongs
Cons:
Cheaply constructed and not as durable as others on this list
Not quite as powerful as other options on this list
About 1-2 yrs of rechargeable battery life but is to be expected for $11
Electrodes are not spiked so may not penetrate as well as others on this list
So… what's our final takeaway?
At such a low price, you can buy several of them as backups for when they eventually run out of battery life. Make great gifts for friends, relatives, or family members that are vulnerable targets to would-be criminals.
Top Choice For Women!
VIPERTEK VTS-881 Micro Stun Gun
Micro stun gun with LED flashlight, powerful and portable. Half the size of full-size stun guns!
Micro size conceals easily, only 3-3/4" high, 1 1/2" wide, and 3/4" thick. It can be easily put into a pocket.
Check Latest Price On Amazon
We earn a commission if you make a purchase, at no additional cost to you.
12/02/2023 05:48 pm GMT
---
#9 FIGHTSENSE Heavy Duty Flashlight Stun Gun
This FIGHTSENSE flashlight/stun gun combo is made out of aircraft aluminum with a rubberized coating to make it easier to keep ahold of should you ever need to use it. It comes in 3 colors: Black, Pink, and Purple, and is priced right at just $16.99. Plus if you buy 2 you'll save an extra 2% which isn't a lot but I'll take as much savings as I can get during these tough times!
Pros:
Nice and compact allowing for easy concealability
Has an advertised power charge rating of 2.5 microcoulombs of extreme stopping power!
Fairly well-built with a great rubberized coating for weatherproofing and grip stability
Looks like a regular flashlight but has multiple electrodes around the rim delivering the pain!
The internal battery can be recharged dozens and dozens of times with the included wall plug
Super-loud arcing sound will scare off stray dogs or potential attackers
An affordable option for those on a budget who need an effective tool for self-defense
Cons:
Expect a 1-2 yr battery life expectancy- possibly longer if used sparingly
Electrodes are more shallow than spiked versions on this list
Higher occurrence of defective units that can be replaced under warranty
So… what's our final takeaway?
The FIGHTSENSE stun gun is easy to conceal and looks like an ordinary flashlight at first glance. It has one of the highest advertised effective power ratings on this list at 2.5 microcoulombs. It also has a fairly bright 380-lumen LCD rating with a strobe feature that works to disorient a potential attacker or signal for help. At such a reasonable price, we think these are worth considering.
Low Cost & Effective!
Fightsense Heavy Duty Flashlight Stun Gun
Professional self-defense equipment: powerful stun gun flashlight combination. Deliver the highest possible power.
Led tactical flashlight: Super-bright, 380-lumen flash mode aids in distress signaling.
Check Latest Price On Amazon
We earn a commission if you make a purchase, at no additional cost to you.
12/02/2023 05:55 pm GMT
---
#10 The Streetwise FriPhone Stun Gun
The next one on our list is from Streetwise and is one of our favorites due to its unassuming cellphone design made to look like an iPhone. Coined as the "FriPhone", we feel this describes this cool little stun gun perfectly! It actually has quite a nice set of features including a pretty load alarm deterrent as well as an LED light that isn't super bright but works as you'd expect for its diminutive size. It will stun- for sure- but does not hold a very long charge due to its small internal battery. So, don't expect the stun voltage to be at its maximum for very long!
Pros:
Very small, pocketable, and unassuming
Gives you the element of surprise as a hidden weapon
Can be carried in plain sight without causing alarm to those around you
Has a few deterrents including an alarm and the crack of the electrodes themselves
Very lightweight and inexpensive
Looks pretty darn cool and makes a great gift
Cons:
May not be as durable due to its thin form factor
Lifespan on these will be limited to 1-2 years- maybe less
Some have reported receiving duds (returns are excepted)
Charge does not last very long due to the small internal battery size
LED is not bright enough to blind an attacker
The stunning power of this device may be a bit weaker than others on this list
Electrodes are not spiked and may not penetrate as well as others
So… what's our final takeaway?
Personally, I think these make great gift items but would not rely on one as my exclusive stun gun. It would be great to use in situations where you don't want to attract any attention to yourself but want to have something in hand and ready to use just in case. Otherwise, I'd switch to my primary stun gun when discretion isn't warranted.
iPhone Lookalike is a SHOCKER!
Street Wise Security Products Cell Phone Stun Gun
This is the most realistic smartphone stun gun available: ideal for women and men who want a discreet, effective self-defense tool!
This cell phone stun gun is discreet and powerful. It can be hidden in a pocket or in plain sight.
Check Latest Price On Amazon
We earn a commission if you make a purchase, at no additional cost to you.
12/02/2023 06:04 pm GMT
---
Note: Since stun guns aren't regulated by any standard or governing body, most stun guns that are sold (including the ones on this list) will often make ridiculously high voltage claims (as a marketing ploy) but most will actually fall between 16,000-29,000 volts due to the laws of physics, so feel free to ignore these crazy numbers. When it comes to stun guns, the number rating that really matters is the effective power rating measured in µC (microcoulombs) since that is what determines the level of pain inflicted, and also what causes the temporary muscle spasms that lead to incapacitation
The most powerful stun guns on this list are in level III, which is 1.0 microcoulombs or greater, causing unbearable pain in most sober & sane people. Level III is what you want if you desire the best possible results. The second most powerful stun guns on this list are in level II, which is between 0.5-1.0 microcoulombs, and are capable of causing pain. Level II stun guns do cause some pain but may not completely stop an attacker in their tracks. The least powerful stun guns are in level I, which is anything under 0.4 microcoulombs, causing general discomfort. Level I stun guns will work on some people but most will brush it off, laugh, or get even angrier, so we don't recommend using these. We focused mostly on level III & level II stun guns to build this list.