When it comes to long gun safes, the market is inundated with choices that range from budget to premium.
But every so often, a product emerges that strikes a remarkable balance between quality, functionality, and cost-effectiveness. The Vaultek RS500i Plus Edition WiFi Biometric Rifle Safe is precisely that product.
In this article, we will delve into the intricate features that set this safe apart and offer a comprehensive comparison with other long gun safes in the same price range.
What is the Best Long Gun Safe for the Money?
So, what is the best long gun safe for the money? Well, in our exhaustive journey to discover the answer to that question, we came across the most advanced and technologically superior long gun safe currently on the market; The Vaultek RS500i Plus Edition Smart Rifle Safe.
We couldn't find another safe in all of our research for this article that included every feature you could ever dream of all wrapped up into one tight, comprehensive, and attractive package.
Now, let's get into the key features, user reviews, and comparisons to show you why we love this long gun safe so much and why we think this is the absolute best long gun safe money can buy!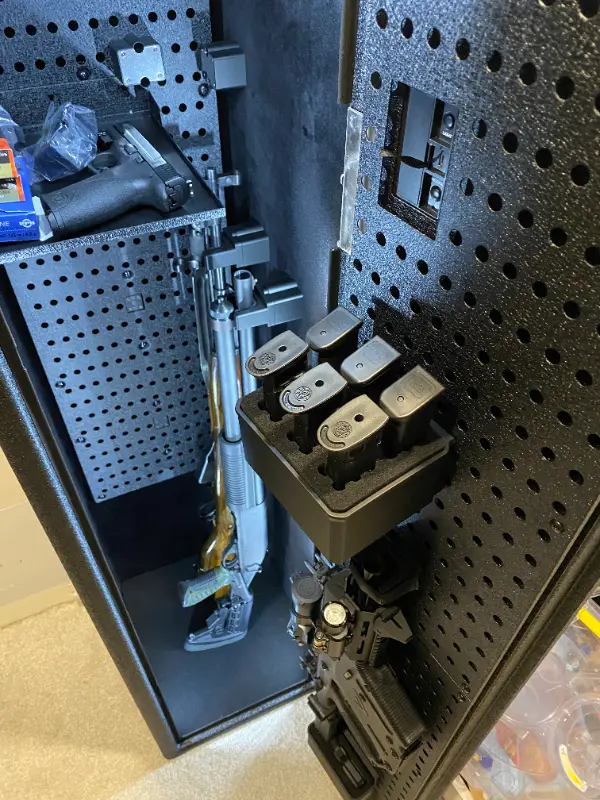 Key Features
There are a ton of great features that make the Vaultek RS500i Plus Edition on the cutting edge of rifle safe technology.
Here are the standout features that make the Vaultek the best long gun safe for the money, in our opinion:
Biometric Security
The Vaultek RS500i Plus Edition, which is equipped with the latest cutting-edge technology, boasts of an exceptionally advanced biometric scanner that surpasses all expectations by having the remarkable ability to effortlessly store and recognize up to an impressive total of 20 distinct and individual fingerprints.
Renowned for its extraordinary precision and reliability, this state-of-the-art scanner guarantees seamless and lightning-fast access to your valuable possessions-
ensuring unparalleled convenience and peace of mind, especially in critical and time-sensitive emergency scenarios where every second counts.
WiFi Connectivity
One of the distinctive features that truly sets the Vaultek RS500i Plus Edition apart from other safes on the market is its built-in pegboard organization, additional adjustable shelving, and advanced WiFi connectivity technology, enabling seamless remote monitoring capabilities beyond compare.
With this groundbreaking feature at your disposal, you can effortlessly stay in the loop and keep a vigilant eye on the status of your safe from virtually anywhere.
Whether you're relaxing in the comfort of your own home or embarking on an exciting adventure halfway across the world, the Vaultek RS500i Plus Edition empowers you to effortlessly-
check the status of your safe, receive timely tamper alerts to preempt any potential threats, and astoundingly, you can even execute remote unlocks, all with just a few taps on your smartphone via the highly intuitive and user-friendly VAULTEK app.
Rifle Capacity
With the capacity to hold up to 5 rifles, the spacious interior of this safe provides ample storage.
Enhanced Organization
The RS500i PLUS EDITION is packed with a wide range of extra accessories. Alongside the standard ones, the Plus Edition boasts a front door pegboard and AR door mount that are already installed.
It also includes an extra EDC shelf, various pistol racks, and mag racks, as well as two additional rifle barrel mounts.
Impressive Build Quality
Constructed from heavy-duty 14-gauge carbon steel, renowned for its exceptional strength and ruggedness, this safe exhibits an impressive design that guarantees its ability to withstand even the harshest conditions, making it a robust and reliable choice for providing long-lasting durability.
The inclusion of anti-pry bars, which serve as an additional layer of defense against unauthorized access, combined with the dual anti-impact latches that reinforce the overall security system, provide peace of mind and reassurance that your valuables will remain safeguarded.
Furthermore, the interior mounted hinges, expertly integrated into the structure, enhance the safe's resilience, offering an unparalleled level of protection for your valuable possessions.
Built-In Lighting
When the door opens, the interior is automatically illuminated by LED lighting.
The included rechargeable lithium-ion backup battery offers standby power for up to 4 months when used without plugging in, and it can be charged in just 3.5 hours using the provided power adapter.
Pros and Cons
Now, let's dive into the many pros of the Vaultek RS500i Plus Edition rifle safe as well as a couple of cons to round out this section.
Pros:
Advanced Biometric Scanner: Quick and accurate readings for fast access.
WiFi Connectivity: Remote monitoring and control for enhanced peace of mind.
Durable Build: 14-gauge carbon steel construction guarantees longevity.
Interior Lighting: Automatic LED lighting provides convenience in dark conditions.
Easy Setup: Comes with pre-drilled holes and mounting hardware for quick installation.
Built-In Organization: The Plus Edition adds all of the bells and whistles that you'd normally have to purchase separately to gain this level of organization and usability.
Cons:
Price: Higher upfront cost compared to basic safes.
Limited Capacity: This can be restrictive if you own a large collection of firearms.
#1 Vaultek RS500i | The Best Long Gun Safe For The Money
The #1 Tactical Smart Rifle Safe!
Plus Edition Included Accessories:
Pre-installed front door pegboard
Twin Pistol Rack (Style A)
Spring-loaded AR mount
6-Slot pistol mag rack
Extra barrel mount
(2) Extra barrel mount adapters
Velcro barrel mount
Single pistol/AR mag holster
4-Slot AR mag rack
75% width shelf
Specifications:
Backlit Keypad: Backlit 8-digit keypad with built-in proximity sensor
Battery Life: Up to 6 months using low-power mode
Battery Type: Upgraded 3.6V 18650 3300MAH Rechargeable Lithium-Ion
Biometric Imaging Speed: 40 FPS
Biometric Sensor Area: 11.00MM x 11.00MM
Biometric Sensor Pixels: 192 x 192 Pixels @ 508DPI
Biometric Storage Capacity: 20 Unique Fingerprints
Construction: Progressive formed 14-gauge steel
Exterior Dimensions: 54.00″ H x 14.00″ W x 11.70″ D
Interior Dimensions: 53.25″ H x 13.75″ W x 9.75″ D
LCD Screen Size: 50.00MM x 25.00MM
Pin Code Length: 4-8 digits
Weight: 93 pounds
Fire Rated: No
User Reviews
Here's what other owners are saying about their Vaultek RS500i Plus Edition Smart Long Gun Safe:
Positive Reviews:
"The biometric scanner works flawlessly. It recognizes my fingerprint even when my hands are dirty from cleaning my guns." — John D.
"I love the WiFi functionality. I get alerts on my phone if someone is tampering with the safe. It's amazing!" — Emily R.
"The VAULTEK RS Series is like the Swiss Army knife of gun safes. It does everything, and it does it well. From the biometric scanner to the WiFi connectivity, it's tech-savvy and reliable." — Laura H.
"I didn't think I needed the WiFi features until I had them. Now, I can't imagine owning a safe without them. I get real-time alerts and can check the status of the safe from anywhere. It's brilliant!" — Daniel T.
"It was surprisingly easy to set up. The manual was clear, and all the mounting hardware was included. It took me less than an hour to have it all secured and ready to go." — Terry V.
Negative Reviews:
"The price tag is a bit high. But once you start using it, you'll know it's worth every penny." — Mark P.
"If you have a big collection, you might find it a bit limiting. However, for me, it fits my four long guns and a few handguns perfectly." — Sarah C.
"The safe is excellent, but I had a bit of a hiccup with the app initially. It took me a couple of tries to get it synced. Once it was set up, though, it worked perfectly." — Gina W.
"The WiFi features are great, but they should work on extending the battery life. I find myself charging it more often than I'd like." — Wendy A.
While the positive reviews echo the safe's advanced features and ease of setup, the negative reviews bring attention to some minor inconveniences like the initial app setup and battery life.
Given the totality of these user perspectives, the VAULTEK RS Series still stands as an exceptional product.
The minor drawbacks are easily overshadowed by its advanced features, robust build quality, and the peace of mind it offers, solidifying its position as the best long gun safe for the money.
The Competition
Here, we round up the "competition" in an effort to compare this awesome long gun safe versus offerings from the likes of Barska, Steelwater, Stack-On, Liberty, and Secure-It.
Barska Quick Access Biometric Rifle Safe
Pros: Budget-friendly, decent biometric scanner.
Cons: Build quality isn't as robust, no remote monitoring.
Steelwater Heavy Duty 20 Long Gun Safe
Pros: High capacity, fire-resistant up to 1 hour.
Cons: Lacks advanced technological features, cumbersome and heavy.
Stack-On A-18-MB-E-S Armorguard 18-Gun Safe
Pros: Convertible interior for customized storage, electronic lock with backup keys.
Cons: Not as robust in terms of build quality, no biometric or WiFi features.
Liberty Safe Centurion 24 Gun Safe
Pros: Excellent fire protection, can store up to 24 long guns.
Cons: No biometric features, expensive, no remote monitoring.
SecureIt Agile Model 52
Pros: Modular interior, lightweight yet durable.
Cons: Lacks biometric and WiFi features, more suited for those who need quick assembly and disassembly.
Compared to the competition, it appears, so far, that the Vaultek RS500i Plus Edition is adding up to be considered as one of the best, if not the best long gun safe for the money!
Side-by-Side Feature Comparison
Let's take a look at the feature comparison side-by-side to give you a nice visual representation of which long gun safe is the best overall.
| Feature | VAULTEK RS Series | Barska Quick Access | Steelwater 20 | Stack-On A-18 | Liberty Centurion 24 | SecureIt Agile 52 |
| --- | --- | --- | --- | --- | --- | --- |
| Biometric Scanner | ✔️ | ✔️ | ❌ | ❌ | ❌ | ❌ |
| WiFi Connectivity | ✔️ | ❌ | ❌ | ❌ | ❌ | ❌ |
| Build Quality | Excellent | Good | Good | Fair | Excellent | Good |
| Fire Resistance | ❌ | ❌ | ✔️ | ❌ | ✔️ | ❌ |
| Capacity | Medium | Low | High | Medium | High | Medium |
| Price | $$$ | $$ | $$$ | $$ | $$$ | $$$ |
Final Verdict
When you consider the side-by-side comparison of features and capabilities, it becomes clear that the VAULTEK RS Series offers a compelling mix of advanced features and robust build quality.
Unlike other safes in the same price range, it doesn't sacrifice tech-savvy amenities for build quality or vice versa.
Yes, Steelwater offers greater capacity and fire resistance but falls short in technological features. Stack-On and SecureIt are reasonable choices but don't offer the balanced mix of technology and build quality that VAULTEK does.
The Barska model, on the other hand, offers some of the technological features but compromises on build quality.
Liberty Safe is excellent in terms of fire resistance and capacity but lacks the smart features that are increasingly becoming standard expectations.
So, if you're looking for a long gun safe that offers advanced technology, quick accessibility, robust security, and smart monitoring features, your search should end with the VAULTEK RS Series Plus WiFi Biometric Rifle Safe.
It stands out as the best value for the money, offering a holistic package that few if any competitors in the same price range can match. In the world of long gun safes, you often get what you pay for.
The #1 Tactical Smart Rifle Safe!
The VAULTEK RS Series may have a higher upfront cost, but the sheer range of features, build quality, and user reviews all point to it being the best long gun safe for the money.
It's not just a safe; it's a smart investment in your security and peace of mind. And this, in all our years of gun safe experience, is what led us to crown the "Vaultek RS500i" as the best long gun safe for the money in 2023.