So you've finally managed to get your hands on one of the most popular AK-47s to be imported onto our brave shores: the Romanian WASR-10.
The problem is, your WASR-10 probably looks as bad as ours did with its nondescript black furniture- or low-quality hardwood- and you really want to give it the makeover it deserves.
If you're anything like us, you either wanted to replace the furniture with the original Romanian surplus furniture set, buy some modern polymer furniture that replicates the Russian AKM look, or go balls-out with a complete tactical upgrade.
In today's article, we're going to show you just how to do that in the comfort of your own home. Since the WASR-10 v2 is an AKM variant, there's no shortage of AKM-compatible upgrades that you can perform.
If you can use basic tools and enjoy customizing your firearms, you should have no problem performing these easy upgrades to your WASR-10.
---
---
WASR-10 Furniture & Stock Replacement Info
---
Before we get into showing you what furniture options are available for the WASR-10 we wanted to address a few commonly asked questions about AKM and AK-47 furniture interchangeability.
People often ask; "Is AK-47 furniture interchangeable?", and the answer is that it depends on a few things such as:
Does the AK have a milled or stamped receiver?
What country was the AK made?
Is the AK-47 an AKM-pattern or Yugo-pattern rifle?
For the first question, AKs with a milled receiver cannot share furniture with AKs with stamped receivers and vice versa. For the second question, in countries where the AK was patterned after the original Russian AK-47 or AKM all of the furniture will be interchangeable.
Most countries did pattern their AKs after the Soviet AK blueprints but AKs made in Serbia (formerly Yugoslavia) by Zastava have unique furniture sets that cannot be interchanged with standard AK-47 or AKM furniture. For the last question, AKM-pattern Kalashnikov rifles share the same interchangeable furniture as the older AK-47-pattern rifles.
Since the WASR-10 is an AKM-pattern rifle that is compatible with all standard stamped receiver AK-47 and AKM furniture, finding furniture that will fit your rifle is not going to be a problem for you.
WASR-10 Furniture Upgrades
In this section, we're going to show you all of the ways in which you can apply some easy WASR-10 upgrades to outfit your AK just the way you like it. The standard polymer furniture that many WASR-10 AKs come with is very basic, bland, and boring.
If your WASR-10 AKM came with wooden furniture, chances are it's the cheap hardwood type that dents and dings up way too easily.
In this article, we'll show you the best polymer furniture options, aluminum handguard options, and laminated wood options to make your WASR-10 look its best.
Whether you want a fully tactical AK, a classical-looking AK, or a blend of both, we've got you covered! We'll show you some good websites to buy WASR-10 furniture and accessories as well as show you the best brands available for the best prices.
WASR-10 Classic Romanian Resto-Mods
In this section, we'll show you what parts you'll need to restore your WASR-10 to its original PM md.63 Romanian glory!
Fortunately for us, there seems to be no shortage of websites that sell Romanian surplus furniture for your WASR-10 to get it looking the way that it was originally designed.
There are two types of WASR-10 wood furniture: handguards with the standard Romanian palm swell and the classic Romanian dong type.
"The PM md. 63 (short for Pistol Mitralieră model 1963) is a Romanian clone of the Soviet AKM assault rifle. It was adopted in 1963 by the Romanian army. The main difference of the PM md. 63 is that it has a wooden foregrip attached under the wooden handguard."

Guns.fandom.com
If you're not buying the dong style and just want the standard palm swell look, you can buy wood surplus AKM furniture made from any com-bloc or even sets made in the US to meet import compliance laws.
Romanian furniture is the most commonly available surplus option and is cheaper to buy than Russian, Bulgarian, or Polish sets.
Regardless of what you decide to buy, we'll show you where to buy surplus furniture and how much it should cost to restore the look of your WASR-10 AKM.
WASR-10 Wood Furniture Upgrades
Turn your WASR-10 into the Romanian PM md.63 with this complete furniture kit sale for $194.95 on carolinashooterssupply.com.
Below is the standard WASR-10 AKM surplus wood furniture with the palm swell lower handguard that sells for $199.95 on carolinashooterssupply.com (currently out of stock).
Patriot in the Dark has a YouTube series on restoring the surplus furniture on his WASR-10 which is handy if you're not into the battle-worn look like we are.
Palmetto State Armory sells newly manufactured Romanian clone dong furniture made in the USA with laminated Nutmeg wood for a little less than the original surplus price. You can buy it on their website for $189.99.
Note: Some light sanding may be required on newly-made wood furniture sets but it's not that difficult to make things fit if you know what you're doing.
You can add a Romanian surplus bayonet if your WASR-10 was imported with its bayonet lug intact for $64.95 from Apexgunparts.com.
Love that cheesegrater look on the upper handguard? For just $24.99, PSA has you covered with a nice reproduction part that will fit any AKM-pattern rifle such as the WASR-10.
Take your AK game to the next level with the Palmetto State Armory Custom Series AK-47 "Cheese Grater" Handguard. The "Cheese Grater" handguard dissipates heat more quickly than traditional handguards and weighs considerably less.
Made of strong, yet lightweight steel, the PSA Custom AK-47 "Cheese Grater" Handguard is the perfect option for upgrading your AK or finishing your next build.
I purchased my WASR-10 battlefield pickup AKM from Atlantic Firearms complete with the Romanian dong furniture set and it is by far my favorite classic AK furniture style!
WASR-10 Polymer Furniture Upgrades
In this section, we'll show you where to buy various polymer furniture for your WASR-10 to get it looking and performing the way you want.
Whether you're going for that classic Russian AKM polymer look or just want something more tactical with plenty of rail space to mount optics, lights, and accessories, there's no shortage of options in this department!
The first, and most popular, polymer furniture option comes from the ubiquitous Magpul manufacturer.
Magpul has come up with many options and styles for your WASR-10 to give your AK a unique look. Many AKs already come with Magpul furniture as a means of being compliant with US import laws.
WASR-10 Magpul Furniture Upgrades
Magpul makes a number of tactical furniture upgrades for your WASR-10 that are high-quality but won't break the bank!
We will show you some of the most popular Magpul stocks, handgrips, handguards, foregrips, and bipods that you can easily install on your WASR-10 in the comfort of your own home in no time at all.
Because the WASR-10 takes standard AKM-pattern furniture, no special fitting should be required, at least on modern-day WASRs.
Magpul AK-47 Zhukov M-LOK Polymer Furniture Set
This Magpul Zhukov furniture set represents the complete furniture package upgrade for a reduced cost when purchased together.
Completely transforms the look, feel, and function of your WASR-10 turning it into a tactical beast in a lightweight, rugged, and compact design.
Magpul Industries MOE Furniture Set
Brownells is selling the Magpul AKM polymer furniture complete kit for a very reasonable price that comes in 3 colors: Black, FDE, & Plum.
The poly handguard has M-LOK slots for mounting accessories if you want to bring your WASR-10 up to date with more tactical capabilities.
This furniture set is lightweight, and durable, making the WASR-10 look like a more modern AKM variant.
Magpul AK Zhukov-S Folding Stock
If you're just looking to change out the stock, you can get the wildly popular Zhukov folding stock on Optics Planet for a great price.
This stock will fit your WASR-10 perfectly and adds a lot of features in a compact and lightweight design.
Fab Defense UAS-AK P Stock Upgrade w/ Cheek Piece
Fab Defense makes some awesome-looking buttstock upgrades for the WASR-10 AKM.
If you're looking for a fully adjustable tactical stock with a built-in cheek riser, look no further than this offering from Fad Defense.
Classic Soviet-Style Polymer AKM Furniture For WASR-10
Some people prefer to keep their WASR-10 as lightweight as possible. The best way to do this is to use the AKM-pattern polymer furniture designed by Soviet Russia with the development of the AKM and AK-74.
This will give your WASR-10 more of a period-correct, Russian look as opposed to the older Romanian wood style.
PSA Polymer AKM Furniture Set
If you want the classic modern Soviet-pattern AKM polymer furniture used on Russian AKMs & AK-74s but don't want to pay the extra dough to buy the authentic furniture, then Palmetto State Armory is a great compromise!
You can buy the entire poly-black furniture set for just $59.99 on their website.
WASR-10 Metal Furniture Upgrades
If you want to go with an ultra-modern tactical look to bring your WASR-10 into the 21st century and don't mind adding a bit more weight, then consider adding an aluminum handguard and steel folding stock.
WASR-10 Metal Stocks
We selected a couple of our top picks for outfitting your WASR-10 with a folding metal stock. Some metal stocks are made of lightweight aluminum while others are made from stamped and folded steel.
Both options look really cool, are quite functional, and fold to the left or right making it easy to store and ultra-portable.
Galil-Style Aluminum Folding Stock
These cool aircraft-grade extruded aluminum folding stocks will look great on your WASR-10 and are made to order! Pick on up on Bonesteelarms.com for $149.99.
Simple lightweight tubular paratrooper-style stock such as used on the FN FAL or IMI Galil.
Aggressively ribbed butt plate for a secure grip on clothing and body armor.
Optional rubber recoil pad.
Aircraft-grade aluminum.
Russian Surplus Triangle Folding Stock
Looking for an original Russian triangle folder to put on your WASR-10? Look no further than Russiansurplus.net to supply you with the real deal for only $135!
These triangle stocks are built like Soviet tanks and can be fired when folded. A folding stock will make storing your WASR-10 so much easier and super portable to boot.
Russian metal non-ribbed triangle stock. The folding stock is for a 5.5 mm pin. Made by Izhmash, Russia. NOS (New Old Stock).
WASR-10 Metal Handguard Upgrades
Adding a metal handguard to your WASR-10 will really transform the look and functionality of your AK. Some metal handguards are made out of lightweight, high-quality aluminum while others are sheet metal.
You can expect to find options with M-LOK slots on the sides and rails on the top and bottom. Some of these rails are removable making it a very modular system that can be adapted to fit your specific needs.
Midwest Industries AK-47 Drop-In Handguard
Midwest Industries makes a universal drop-in lower handguard that fits stamped receiver AKM-pattern rifles like the WASR-10.
This gives you the ability to add a hand-stop, bipod, laser, flashlight, or anything else that mounts to an M-LOK slot! Brownells sells them for some of the best prices we could find.
Midwest Industries AKG2 AK-47 Handguard
Brownells offers the awesome Gen 2 AKG2 aluminum handguard for your WASR-10 for $169.95. We couldn't find one any cheaper than that as it seems to be what most websites sell them for.
Perhaps you can find them cheaper used or on eBay- just beware of knockoffs!
WASR-10 Accessory Upgrades
Need some accessories for your WASR-10? We've compiled a shortlist of various accessories for your WASR to finish off your build!
We'll be taking a look at WASR-10 accessory upgrades such as side mounts for optics, muzzle devices, triggers, adjustable gas pistons, foregrips, bipods & rubber buttstock pads.
WASR-10 Side Scope Mount Upgrades
Side scope mounts are the original solution to adding optics to your WASR-10. Most AKs have side scope rails riveted into the left side of the stamped receiver but not all mounts have the same rail pattern.
Fortunately, the following side scope rail by RS Regulate is a universal type made to fit just about any pattern out there.
Note: With this scope rail, you will have to purchase a different scope mount depending on what optic you plan to use. The scope mount is sold separately.
RS Regulate AK-301 AK-47 Side Rail Scope Mount
RS Regulate makes some of the best quick-detach side-scope mounts for the WASR-10 or any AKM-pattern rifle you may own.
Due to their popularity, they're almost impossible to find in stock but we managed to find one at Brownells for a reasonable price.
These mounts are very low profile and require an additional scope mount for mounting your optic of choice.
AKML allows the mounting of the Aimpoint T-1 and H-1 Micro Red Dot Optics
AKOG allows the mounting of Trijicon ACOG sight systems
---
WASR-10 Muzzle Device Upgrades
Muzzle devices are useful for a lot of things like taming recoil, flash suppression, and preventing muzzle rise.
One of the best, and easiest to perform, WASR-10 upgrades is replacing the awful slant brake that typically comes with imported AKs.
These slant brakes offer minimal benefit in combating muzzle rise and offer no flash suppression or mitigating recoil well. Replacing your WASR-10's muzzle device should be the first thing on your upgrade list!
Primary Weapons FSC47 Mod 2 AK-47 Muzzle Brake
This awesome muzzle brake from Primary Weapons will remove a lot of felt recoil from your WASR-10 and will keep the muzzle rise to a minimum.
Caliber – .30
Length – 2.10"
Diameter – .865"
Thread Pitch – 14×1 LH
Weight – 2.0 oz
Ultradyne Athena AK-47 Compensator Muzzle Device
This awesome compensator for your WASR-10 forces the gases to exit the front of the barrel which reduces noise and the dust cloud when shooting prone.
The teeth on the end give it that "f**k around and find out" meat tenderizer look, which I think will impress and terrify your shooting buddies!
Ultradyne Usa Ak-47 Vostok Ak Compensator
Ultradyne USA makes some wicked-looking compensators that really help control muzzle rise and felt recoil.
Brownells is selling them for a good price for the performance improvements in our opinion. If you're looking for a more tactical look for your WASR-10 this muzzle device definitely fits the bill!
Keep your AK Muzzle Rise Under Control!
Machined in the USA
For use with 7.62×39 AK platforms
Improve accuracy and speed of follow-up shots
The Ultradyne Vostok AL Compensator ensures those follow-up shots are on target, so every round counts.
WASR-10 Adjustable Gas Piston Upgrades
If you're looking to tame the typically over-gassed WASR-10 or plan on running it suppressed, upgrading to an adjustable gas piston might be your best option.
As far as we're aware, KNS is the only manufacturer of adjustable gas pistons for the AK platform.
KNS Precision Adjustable AKM Gas Piston
Brownells is selling the AKM-variant version which will work in your WASR-10. We've yet to try one for our WASR-10 but if we ever decided to run it suppressed, KNS is the one we'd get.
WASR-10 Gas Tube Upgrades
If you're looking for the lowest possible way to mount a red dot sight on your WASR-10, consider replacing your gas tube with a railed gas tube replacement upgrade.
This is one of the best solutions for co-witnessing your AK's front sights without losing zero. You might think the heat from the gas tube would damage any sight you'd want to mount there but you'd be wrong!
Any high-quality RDS will function fine on this railed gas tube thanks to a thick tube gauge that dissipates heat really well.
Ultimak AK Scout M1B Railed Gas Tube
Brownells sells this awesome railed gas tube replacement by UltiMAK which is a slightly better deal than the Midwest Industries option.
This is our favorite railed gas tube and has served us well and looks awesome! Just know that standard AKM-pattern AKs like the WASR-10 should use the UltiMAK M1B model WITHOUT the vent holes since the gas block already has vent holes.
Chinese Norinco AKs do not have vent holes in the gas block but in the gas tube and need the M2B model.
One reviewer wrote: "This is a great optics mount. Easy to install and stays put. I've had one on my wasr 10/63 for over 10 years and 20k rd without issue. I used some electrical tape to keep the clips in place around the barrel."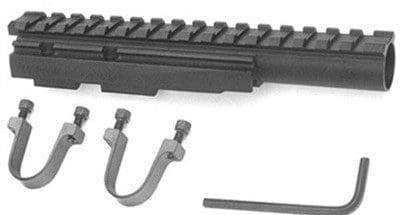 Midwest Industries Railed Gas Tube
This high-quality railed gas tube by Midwest Industries is a simple drop-in design that is secured by 2 set screws and will fit your WASR-10 great.
This is one of the best upgrades to do and adds a very minimal footprint with not a lot of added weight.
Provides a lower 1/3 co-witness sight picture with Aimpoint micro red dot sights Easy installation, with no permanent modification to the firearm Internal profile made to the same profile as the standard AK gas tube.
Provides a lower 1/3 co-witness sight picture with Aimpoint micro red dot sights
Easy installation, with no permanent modification to the firearm
The internal profile made to the same profile as the standard AK gas tube
Constructed from 6061 aluminum and 4140 steel, with mil-spec top rail
Troy BattleRail AK47 Railed Gas Tube
This new product to hit the shelves made by Troy is already receiving high praise and is the best-rated product in this category for the money.
This one is nipping at the heels of the UltiMAK and is sure to be stealing some of the market shares away. Only time will tell who ends up on top!
WASR-10 Dust Cover Upgrades
Looking for a unique, affordable, and simple way to mount your optic and don't want to mess with side mounts or railed gas tube replacement options?
One innovative option comes from a company called Texas Weapon Systems. They've developed a high-quality and durable Picatinny railed dust cover solution for mounting optics that mounts as easily as putting on a dust cover but will hold zero like a champ.
Texas Weapons Systems Gen 3 Dog Leg Rail
We found the best deal for this unique dust cover replacement on Brownells, which might seem expensive at a glance but is comparable to higher-grade side mount options.
This modular dust cover will transform your WASR-10 into a modern tactical AKM in as little as 10 minutes to install!
"I've tried lots of different optic mounts for AKs over the years and so far this is my favorite. Installation was easy provided you can disassemble and reassemble the recoil spring assembly – something every AK owner should learn to do. Once mounted the cover seems very solid. I haven't yet run it through its paces for return to zero with a red dot optic, but I expect it to do just fine."
Drop-in installation
Completely replaces factory dust cover and rear sight leaf
Cam-lock release button for easy removal with optic attached
Comes with all the necessary mounting hardware
T.W.S. Gen-3 Dog Leg Rail & Gen-3 Hand Guard
Texas Weapon Systems has come up with the most awesome combo I've ever seen for the AK platform, that will work perfectly with your WASR-10!
First, they brought us the best-selling railed dust cover to hit the market and now they've made a matching upper and lower handguard to complete the look for the ultimate AK combo of the year award.
All for a price that is well below that of the unobtainium Zenitka systems!
WASR-10 Foregrip & Hand Stop Upgrades
Foregrips and hand stops are a great way to get your WASR-10 under control and keep your support hand in the right position.
Foregrips and hand-stops come in a wide range of shapes and sizes so we've picked out a few that we think might suit your needs while achieving a cool aesthetic with a functional design.
FAB Defense Rubberized M-LOK Hand Stop Combo
These tactical lightweight hand stops by Fab Defense are an affordable way to keep your support hand in a comfortable position and out of harm's way.
This combo comes with a short and long hand stop depending on your needs and setup. Comes in 3 colors to match your style.
Strike Industries Bipod Foregrip
Strike Industries combined a foregrip with built-in bipod legs to kill two birds with one stone!
Now you get the advantages of a compact foregrip and the ability to stabilize your WASR-10 when shooting prone or on a shooting table.
WASR-10 Stock Butt Pad Upgrades
Want to save your shoulder from your WASR-10's over-gassed recoil? The cheapest way to do this is by adding a rubber butt pad to your existing wood or polymer stock.
If your stock doesn't already come with a shock-absorbing butt pad, this is the quickest fix that won't break the bank!
LThyzszb Recoil Rubber Slip-On Recoil Reducing Pad
This oddball brand makes a pretty awesome recoil pad that will fit great on the wood stock of your WASR-10.
The added comfort while shooting an over-gassed AK is well worth the price in our opinion. This will save you from getting a sore shoulder after a long day at the range and the added grip will keep your WASR-10 from moving under fire.
KUSA Rubber Butt Pad
Kalashnikov USA makes a great butt pad to add to your over-gassed WASR-10 that won't break your budget!
You can pick one up on Kalashnikov-USA for just $11.88 which is a spectacular deal for the quality of the rubber and how much more comfortable you'll be when shooting.
Made from durable black rubber, this has been designed to maintain the rifle's position while you fire. Reduce the recoil from your AK  firearm with a rubber butt pad with Ergonomic Design.
Compatible with:
All AKs with standard stocks
All AKs standard triangle stocks
WASR-10 Trigger Upgrades
The WASR-10, like every AK-47 and AKM, is compatible with any trigger upgrade on the market. In this section, we're going to show you a few good options for replacing the standard mil-spec trigger.
Most factory AK triggers have the takeup of a two-stage trigger and don't have a very defined wall.
Enhanced single-stage triggers have a lighter, super-crisp, trigger pull that breaks like glass with a much shorter reset.
These WASR-10 compatible triggers will give your AKM a big bump in performance allowing you to take much faster follow-up shots that are ideal for competitive shooting where speed is king.
WASR-10 Single-Stage Triggers
Single-stage triggers for your WASR-10 are better for competition shooting as opposed to home defense since they typically don't have any take-up like mil-spec AKM triggers.
They usually have lighter 2.5lb-3.5lb trigger pulls as well making them more dangerous but much easier to shoot fast.
You can use heavier trigger springs if you want to make them safer to use for home defense.
Battle Arms Development B.A.D. EKG AK Trigger
We are fans of the B.A.D. EKG trigger in regards to its performance as well as a killer aesthetic!
If you want something unique that stands apart from most AK triggers out there but is reasonably priced on Brownells, then give this trigger a go.
LBE Unlimited AK G3 Trigger
This next trigger will look and perform great on your WASR-10 and is a definite upgrade to the standard AKM triggers that come with most AKs- including WASR-10s.
Selling on Optics Planet for a great price, this sleek-looking, flat-face trigger will give your WASR-10 that custom look while also providing a noticeably enhanced performance!
The LBE Unlimited AK G3 Trigger Group. This single-stage trigger features a flat trigger face/ profile and is a great upgrade or replacement for your stock trigger.
The AK G3 trigger group offers an improved trigger pull of 3-4 lbs and eliminates the painful trigger slap common on other designs.
All G3 components are heat-treated to a 40-44C Rockwell hardness and manufactured out of tough 4140 tool-grade carbon steel. A precision secondary machining process ensures perfect fit and function.
ALG AKT-EL AK Lightning Bow Trigger
Now we get to our all-time favorite AK trigger for the WASR-10 or any AK-variant out there: the ALG AKT-EL!
This awesome trigger is the best option on the market and that opinion is shared by most people who have purchased and installed one. This trigger looks awesome, feels great, and performs with a champ!
The ALG AK Trigger is designed for shooters who are in need of a reliable trigger that features a smoother and shorter trigger pull than the stock trigger. This trigger is ideal for combat and home defense applications.
The ALG AK Trigger is machined from triple alloy steel and features an ultra-tough corrosion-resistant manganese phosphate finish. The AK trigger features the Lightning Bow trigger face which produces a very comfortable feel over traditional stock AK triggers while also enhancing trigger control.
There might be some minor fitment needed especially for the roll pins but that wasn't the case in my installations… your results may vary.
Fime Enhanced Fire Control Group For AK-47
This next trigger upgrade is a two-stage trigger from FIME that eliminates the trigger slap that some single-stage triggers have been known to cause.
This trigger will improve your range experience and is a simple drop-in design that requires no special fitment unlike some other triggers out there.
For the price, we think this is a great alternative to the RAK-1 trigger that comes with the WASR-10 and other AKs.
Final Thoughts
We hope you found this article useful in your quest to make the most out of your WASR-10 as you upgrade it to look and perform the way that suits your needs and taste best.
When considering upgrades for your rifle, particularly for WASR10 furniture, it's important to weigh both aesthetic and functional aspects. The right WASR 10 furniture can enhance both the appearance and the performance of your firearm.
Whether you opt for a classic WASR 10 wood stock or a modern WASR 10 Magpul furniture, ensure that your choice aligns with your shooting style and comfort.
If you're looking to replace or upgrade, a WASR 10 stock replacement, including options like the WASR 10 dong or other tactical stocks, can provide better ergonomics and potentially improve handling.
Remember, whatever upgrades you choose, from a simple stock change to a full furniture overhaul, should reflect your personal needs and the specific requirements of your shooting discipline.