In this article, we'll be showing you some of the best Century Arms VSKA upgrades that will level up the performance of your VSKA to give it a more premium feel.
Most VSKA AKM-pattern rifles come from the factory with various American hardwoods stained in several colors to suit your tastes.
If you purchased it with wood furniture, most of these upgrades won't replace the furniture with the exception of the upper handguard.
There are quite a few VSKA upgrades you can perform to improve your shooting experience that leaves your AK in its stock configuration while upgrading its performance under the hood while replacing a few external parts.
Below is a list of categories for specific VSKA upgrades and the parts we hand-picked to improve your experience at the range. There are also a lot of VSKA accessories that we cover in another article.
---
VSKA Trigger Upgrades
Currently, manufactured VSKA AKs come with RAK-1 enhanced trigger groups that are definitely an improvement over most standard AK triggers but there are better options out there- if you're wanting to get the best AK trigger experience possible.
Below is our list of the best VSKA trigger upgrades that will take your shooting experience to the next level!
---
#1 ALG AKT-EL AK Lightning Bow Trigger
ALG makes arguably one of the best triggers to replace the RAK-1 that came with your VSKA AK. ALG AKT triggers are made out of S7 tool steel and are built to last.
This trigger group has all of the parts needed to install it but you should have it done at your local gunsmith if you're comfortable doing it yourself.
I installed mine with relative ease and there are a few videos out there that can help give you some instruction if needed.
#1 Trigger Upgrade
"A few days ago I saw this trigger in my favorite gun store in Switzerland where I live. Without expecting much for the price I bought it went home and installed it. I've had to install the roll pin too and file some down. After my first test, I was simply stunned. I couldn't believe that it would be possible that an AK would have such an incredible trigger. After my first range trip where my buddies tried it too each of them bought one themselves. It is perfect. I had to buy two more for my other AKs. Great job guys."

David Stanic
Personal Observations & Experience With The ALG AKT AK Trigger:
The travel of the ALG trigger is markedly shorter than most AK triggers with about a half-inch of uptake and then a clean break.
There is no "wall" to speak of and it's about a 2.5-3.5lb trigger pull weight, which is pretty darn light for an AK trigger. If you're used to holding your trigger on its wall, it might take some getting used to at first as the trigger will break without warning once you pass the tripping point!
This trigger will allow you to squeeze off rounds quickly and steadily and the reset is crisp, audible, and has virtually no overtravel in either direction. This short and smooth action will definitely improve your shooting accuracy as well as allow quicker follow-up shots.
*Klayco47 has a great YouTube channel that demonstrates the speed performance increases with ALG triggers.
Note: These triggers are a favorite among the AK community, but may not be ideal for home defense where a longer and heavier trigger pull will prevent an accidental discharge.
---
#2 ALG Defense AK Trigger Ultimate with Lightning Bow
The ALG Ultimate is the premium version of the AKT with polished surfaces to reduce friction and enhance the smoothness of the trigger pull.
Opt for this trigger if you want the absolute best feeling, premium, trigger experience in your VSKA AK. Installing this ALG Ultimate trigger is a breeze if you've ever done a trigger upgrade before and have some experience upgrading your firearms.
ALG has a very thorough YouTube installation tutorial you should check out!
Trigger Bow Type: Lightning Bow
Weapon Platform: AK47/AK74
Material: machined from gun-quality alloy steel
Finish: corrosion-resistant Manganese Phosphate
---
#3 Franklin Armory BFSIII AK-C1 Drop-In Binary Trigger for AK
Looking for the fastest way to send bullets downrange while putting the biggest grin on your face at the same time? Binary triggers are perhaps the only way of legally experiencing the feel of automatic fire without jumping through the hoops and paying the big bucks to own and operate the real thing.
Franklin Armory makes a great drop-in binary trigger for your VSKA AK that you can install on your own with a little bit of work.
Some AKs will require more fitment than others but the end result is about the most fun you can have at the range. Granted, bullets aren't cheap and neither is this trigger but if you've got the means this is the trigger to get!
---
#4 LBE Unlimited AK G3 Trigger
This sleek new offering from LBE Unlimited sports a flat-faced trigger with a slight bow. The AKG3 trigger is a definite improvement over the stock RAK-1 trigger that comes with your VSKA and is offered at a great price for the upgrade in performance and speed that you get.
If you're looking for a trigger that is similar in performance to an ALG but for roughly half the price, this is a great option to consider.
---
#5 Fime Enhanced Fire Control Group For AK-47
This next trigger upgrade is a two-stage trigger from FIME that eliminates the trigger slap that some single-stage triggers have been known to cause.
This trigger will improve your range experience and is a simple drop-in design that requires no special fitment unlike some other triggers out there.
For the price, we think this is a great alternative to the RAK-1 trigger that comes with the VSKA and other AKs.
SPECS:
Length of travel: .35 in
Reset Travel: .15 in
Trigger Take-up Weight: 1.7lbs
Trigger Break Weight: 2.8lbs
Fire Control Group Weight: 2.88oz
Weight: 0.5lbs
Manufacturer: FIME Group
Receiver: Milled or Stamped
---
VSKA Muzzle Devices
---
A good muzzle device can lower recoil, allow flatter shooting, and help you stay on target for faster follow-up shots.
The stock slant brake that comes on most VSKA AKs has a mediocre performance effect that can be greatly improved by adding something more advanced.
A lot of muzzle brakes vent a lot of the gasses out of the sides which tames the recoil and keeps the barrel rise to a minimum but can be a rude awakening to those standing nearby.
Other muzzle devices route the gasses forward to negate the side pressure wave which makes shooting prone more pleasant and much less dusty.
Others do a better job at hiding the muzzle flash which can be blinding when shooting after dark. Depending on your specific needs, there's a muzzle device that's perfectly suited for your VSKA AK.
---
#1 VG6 Precision Epsilon AK Muzzle Device
The VG6 is one of the highest-rated muzzle devices on the market. It is truly a jack of all trades functioning as a muzzle brake, compensator, and flash-hider in one mean-looking and beautifully-designed piece of metal!
For those looking for a do-it-all muzzle device for your VSKA, look no further.
Color: Black
Finish: Black Nitride
Fabric/Material: 17-4ph Heat Treated Stainless Steel
Caliber: 7.62x39mm
Gun Model: AK-47
Length: 2.21 in
Weight: 2.24oz
---
#2 Precision Armament M4-72 Severe-Duty Compensator
This compensator by Precision Armament is one of the best at reducing recoil (up to 75% less!) allowing you to shoot flatter and achieve faster follow-up shots.
It also looks pretty darn cool and will make your VSKA really stand out from the crowd. It's also designed to kick up less dirt while shooting prone which is much appreciated!
This sucker is built tough and made to last, much like the AK platform. It might seem a bit pricey but buy once, cry once, are the words we live by!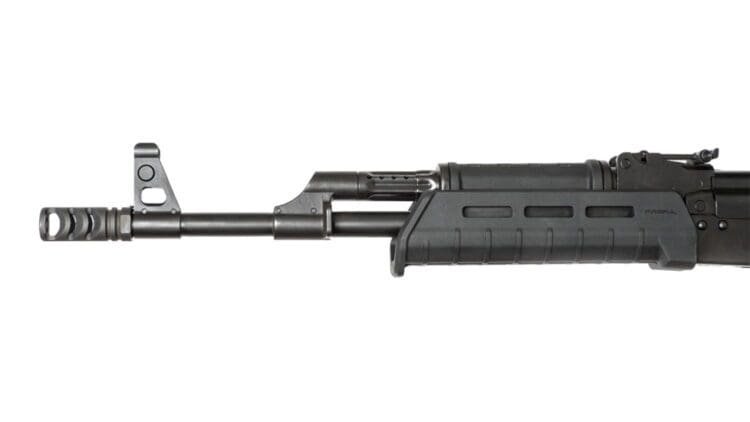 ---
#3 Spikes Tactical AK 7.62mm Dynacomp Muzzle Brake
Another great outing by Spikes Tactical is their Dynacomp muzzle brake which does a great job mitigating recoil and suppressing flash.
This muzzle brake is not as friendly to people standing beside you so keep that in mind when firing in close vicinity to those around you. Probably not the best device to use indoors!
Features of Spikes Tactical AK 7.62mm Dynacomp Muzzle Brake:
M14.1 LH Thread
Material: 416 Heat Treated Stainless Steel
Thread: M14 X 1 LH
Finish: Black Nitride
Features: Brake Ports Covering 360 Degrees
Installation: Index Notch for Proper Timing
Compatibility: Up To 7.62×39 or .308
Weight: 2.7oz
---
VSKA Railed Gas Tubes
In this section, we cover our recommendations for gas tube replacements that allow you to mount an optic that can lower 1/3rd co-witness with your iron sights while maintaining zero.
In our opinion, this is the best place to mount a red dot optic on your VSKA. You will notice improvements in target acquisition and speed as well as better awareness of what's around you.
If you shoot with both eyes open, you will learn to superimpose the red dot on the target while maintaining your situational awareness and peripheral vision.
---
#1 Midwest Industries AKM-Pattern Railed Gas Tube
The first product on our docket for recommendation is the Midwest Industries railed gas tube.
Our Take:
This Midwest Industries railed gas tube is one of the absolute best ways to mount an optic on your Century Arms VSKA.
Mounting this gas tube replacement is relatively easy to do if you've ever fully disassembled your VSKA AK for a thorough cleaning you already know enough to do this upgrade.
This is one of the best places to mount a red dot sight as it does not shift or lose zero.
The heat and recoil generated while firing will not damage a quality optic and can even co-witness with your front sights with a micro red dot attached.
Made out of high-quality 6061 aluminum and 4140 Chromoly steel makes this really strong without adding a lot of weight to the front of your rifle.
These railed gas tubes look really great with wooden furniture or aluminum handguards for a more tactical application. No special fitting to your VSKA AK is required as this is a drop-in upgrade!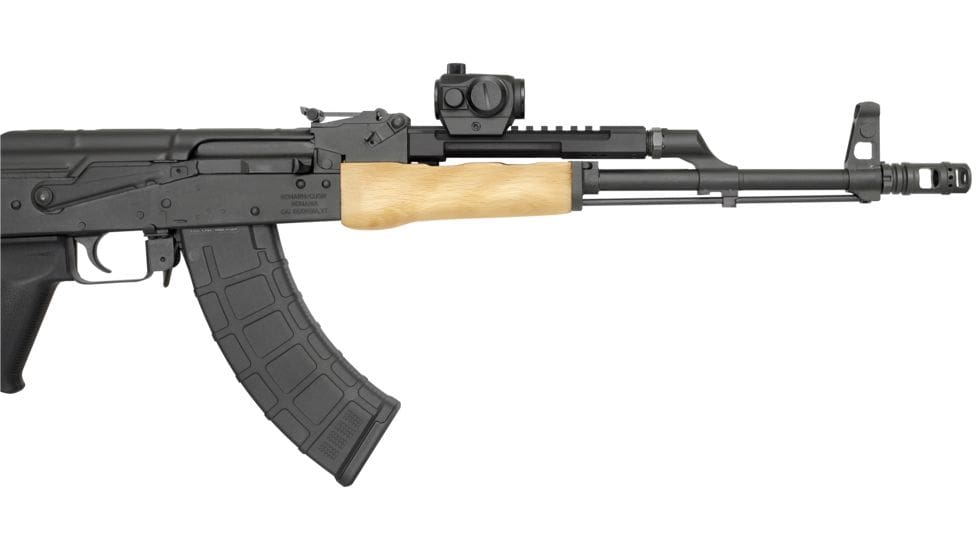 Specifications:
Provides a lower 1/3 co-witness sight picture with Aimpoint micro red dot sights
Easy installation, with no permanent modification to the firearm
The internal profile made to the same profile as the standard AK gas tube
Constructed from 6061 aluminum and 4140 steel, with mil-spec top rail
Rock-solid mounting with Midwest Industries patent-pending mounting feature
MI Lifetime Warranty
---
#2 Troy BattleRail AK47 Adjustable Railed Gas Tube
Our Take:
Troy Industries makes some great products and this adjustable railed gas tube allows it to be mounted on Yugo-pattern or AKM-pattern rifles as well as stamped or milled receivers.
This versatility allows you to fit it onto any AK that features a full-length gas piston like the VSKA. When using adjustable systems such as the Battle Rail, it's imperative that you use some thread lock to prevent it from coming loose as this will ensure that your optic will hold zero.
Installation is fairly straightforward and requires the installer to fully field strip the rifle. Troy Industries has also developed an aluminum lower handguard that perfectly matches the look of their Battle Rail if you're wanting to fully modernize the look and function of your VSKA AK.
---
#3 Troy BattleRail AK47 10″ Lower Handguard M-LOK
Here is the matching lower handguard developed to work with the Battle Rail gas tube.
---
VSKA Adjustable Gas Pistons
VSKA AKs tend to be over-gassed like most AKs. This is typically done on purpose to improve the reliability and cycling of 7.62×39 but has the unwanted effect of more felt recoil and premature wear on moving parts.
By adding an adjustable gas piston to your VSKA, you can dial down that recoil and reduce the wear and tear on your bolt and carrier.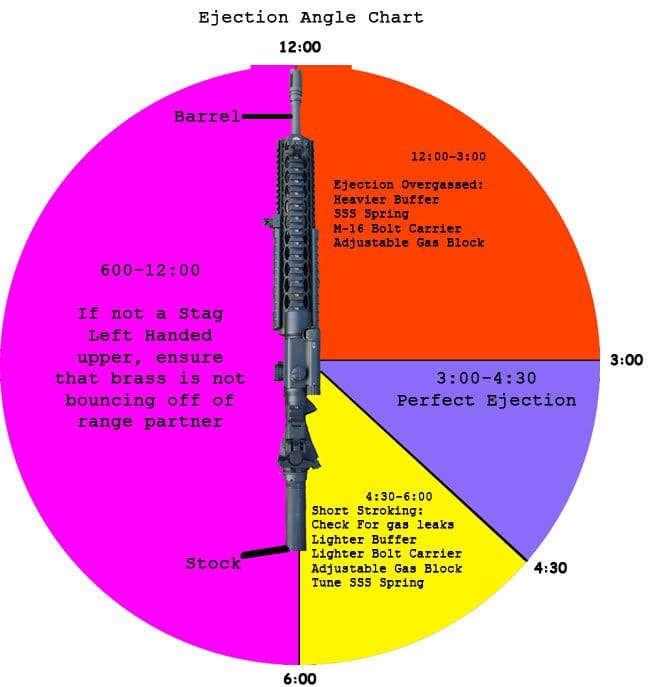 This is especially important if you're wanting to fire your VSKA suppressed. The added backpressure when shooting suppressed would add substantial stress to your AK's moving parts which will lead to even more premature wear.
The solution to this problem is adding a tunable gas piston that you adjust using the lowest setting possible that still allows your rifle to successfully cycle the action.
This does tend to decrease reliability and introduces the likelihood of failures to cycle, eject, or feed and thus is only recommended for training use and not in your self-defense setup.
---
#1 KNS Precision Adjustable Gas Piston System
Looking to decrease the recoil of your VSKA making it more pleasurable and controllable to shoot? KNS has developed an adjustable gas piston replacement to do just that!
To install, use a punch to tap out the pin that holds the standard threaded gas piston in place and reverse the process to install the KNS gas piston.
Adjust the gas sleeve on the piston head until your VSKA AK's ejection pattern is in the optimal 3-4:30 o'clock position to ensure proper cycling of your rifle.
Key Benefits:
Tool-Free Adjustment
Reduces Recoil
Tune almost any AK for suppressed use
Decrease cyclic rate for full-auto fire
made in specialized factories 922r Compliance Part
Piston head assembly made from corrosion-resistant stainless steel
All surface parts are nitrided for durability
low-friction
& easily-cleaned operation
Patent-Pending
---
VSKA Rear Sight Post Upgrades
---
If you're a fan of using iron sights (and don't want to detract from the classic wood AK look) but are looking for more subtle ways to improve shootability, then an upgraded rear sight leaf just might be the best route for you!
There are quite a few updated iron sight options that take advantage of modern materials such as tritium and fiber optics that will transform those plain old iron sights into a much more user-friendly and accurate system that will make hitting your target a whole lot easier.
There is a useful video tutorial on how to remove the rear sight leaf on YouTube.
---
#1 Kensight AK Rear Sight Trijicon Tritium Night Sight
This Kensight rear sight leaf replacement will give you excellent night sight visibility allowing you to acquire targets in the dark. To install, just remove the old stock sight leaf and replace it with this one.
Wire-EDM machined from a single billet of 4140 chrome-moly steel
Ultra-smooth adjustments, audible clicks for both windage and elevation
Graduations marked from 100M to 1000M like the original tangent rear sight
Fitted with Trijicon 0.076 green tritium inserts
---
#2 Kensight AK Variant Combo Sight Set w/Trijicon Tritium inserts
This combo made by Kensight includes both the rear sight leaf and front sight post upgrade for those who want a better 3-dot sight picture.
Get the benefits of modern-day and night sights found on handguns for your VSKA AK rifle.
Wire-EDM machined from a single billet of 4140 chrome-moly steel
Ultra-smooth adjustments, audible clicks for both windage and elevation
Rear tangent sight fits all original Soviet AK-47 pattern, Norinco 56S, and Poly Tech AKS rifles
Graduations marked from 100M to 800M like the original tangent rear sight
---
#3 Meprolight Tru-Dot Night Sights for AK47
Are you looking for a more affordable night sights combo solution? The Meprolight Tru-Dot night sights offer a version that doesn't use the more expensive Trijicon tritium inserts.
They still work pretty well in this price bracket and make perfectly acceptable day/night sights that are a definite upgrade to the stock VSKA iron sights. They are fully adjustable for windage and elevation.
---
#4 XS Sight Systems Express Tritium Rear AK Sight
If you're looking for a really unique rear sight system for your VSKA AK then this XS sight system is definitely an attention grabber!
This tritium day/night sight is fully adjustable with a set screw to adjust and hold for centering.
Front Sight Fitment:
The XS front sight fits all AK-47 and AKM varieties. It will not fit the SKS or the Czech Vz.58 rifle.
Rear Sight Fitment:
The XS AKM Express Rear Sight is designed to replace the AKM rear sight, but can also fit AK-47 varieties. The AK-47 is graduated out to 800 meters while the AKM is graduated out to 1000 meters. The XS rear sight will overhang slightly if installed on the AK-47 (ex. Norinco). It will not fit the Czech Vz.58 rifle or SKS.
---
#5 GG&G AK47 Ghost Ring Replacement Sight
GG&G makes this awesome-looking 800-meter ghost ring replacement sight for those who don't like rear sight notches.
Ghost ring sights are easier to aim precisely than the standard notch sights that come with VSKA AKs and will improve your ability to focus on the front sight post for more accurate shooting and target acquisition.
This particular model is ranged out to 800 meters (870 yards) but there is also a model that goes out to 1000 meters, but AKs aren't very effective past 400-500 yards so the 800-meter option should suffice! Installation is similar to other rear sight replacement options.
---
#6 Meprolight AK-47 AKM Pattern Rear Night Sights
If you're wanting to save a bit of money and only want night sights on the all-important front sight, opt for something like this Meprolight sight post instead.
Installs easily using an AK sight post tool available here on Amazon: Front Sight Tool
---
#7 Samson AK-47 Rear Sight Rail
Looking to replace the rear sight leaf on your VSKA with a solid rail to mount your red dot sight?
Samson has accepted this challenge and come up with a super sturdy and strong steel optics rail that is easy to install on your rear sight block while allowing you to still use the iron sights with its see-through v-notch design.
It might be a bit pricey but you don't want to skimp on a mounting system like this if you want your optic to hold zero.
---
#8 T.W.S. Systems AK-47 Gen-3 Dog Leg Scope Rail Top Cover
Texas Weapons Systems has designed a really tactical railed dust cover that mounts directly to your rear sight block allowing you to securely mount a scope or any optic.
Another cool feature is the hinged design that allows you to pivot up the dust cover to get access to the internals for cleaning without needing to remove the optic.
This is a very tactical-looking dust cover replacement that is relatively easy to install and replaces both the old dust cover and rear sight leaf.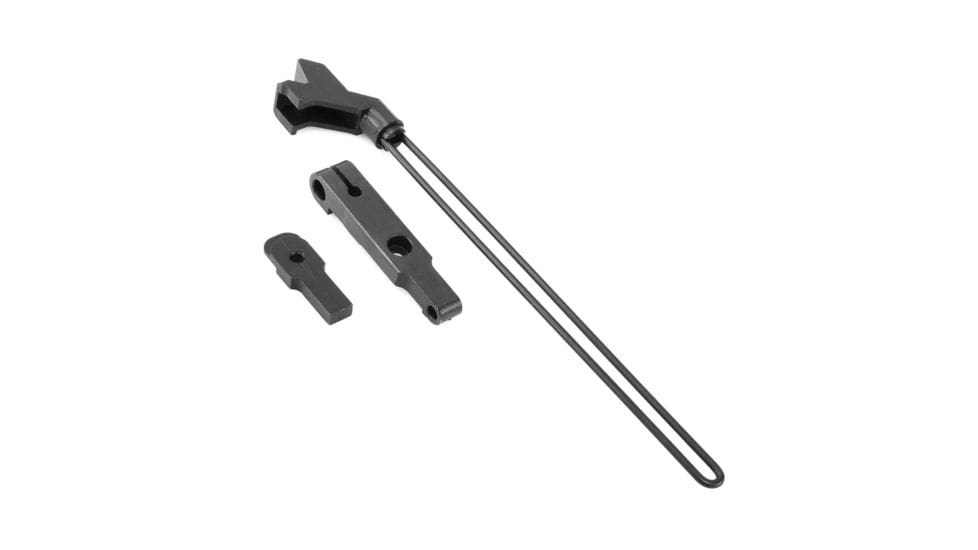 Included Accessories:
Dog Leg Rail Top Cover
Hinge Fork with takedown pin (pre-installed)
Hinge Base with screw
Nut Plate (under hinge base)
Hinge Base Pin and retaining clip
Cover Release Button
Allen Wrench
---
#9 T.W.S. AKM Bundle Gen-3 Dog Leg Rail & Gen-3 Hand Guard
Texas Weapon Systems has come up with the most awesome combo I've ever seen for the AK platform, that will work perfectly with your Century Arms VSKA AK!
First, they brought us the best-selling railed dust cover to hit the market and now they've made a matching upper and lower handguard to complete the look for the ultimate AK combo of the year award.
All for a price that is well below that of the unobtainium Zenitka systems!
---
Well, that wraps up our top VSKA Upgrade picks to take your AK to the next level of performance!
If you've enjoyed the post or have any of these upgrades, feel free to share with friends and family as well as post a comment to let us know what your experiences are with your VSKA AK.