If you own a gun safe, chances are it's lacking a few vitally important gun safe accessories out of the box. Most of the safes I purchased had the basics, like built-in rifle racks, removable shelves, and an LED light (if you're lucky), but most are just bare-boned empty boxes that need a lot of upgrades to get the most out of them!
This article serves as a wish list of all of the things that I ended up needing to buy to get my safe up to snuff. All of the accessories I ended up adding over time completely upgraded the functionality and organization of my gun safe, and I know it will benefit yours too.
Gun safe accessories you should know about:
When it comes to gun safes, there are several must-have accessories that will enhance security, organization, and convenience. Here are some of the best gun safe accessories to consider buying to maximize your gun safe's useability:
Dehumidifier: A dehumidifier is essential for maintaining an optimal humidity level inside the safe. It helps prevent the corrosion and rusting of firearms and ammunition.
Humidity monitors: These super useful electronic devices display the current temperature and humidity inside of your safe. These wireless devices are oftentimes battery-powered.
LED lighting: Most gun safes come with internal lighting, but often it may not be efficient or bright enough. Adding LED lighting will ensure better visibility inside the safe, making it easier to locate firearms and other items.
Pistol racks: Pistol racks or handgun hangers help keep handguns neatly organized and easily accessible. They optimize the space inside the safe and protect the guns from scratching or damage.
Rifle racks: These are foam and plastic/foam rifle rack solutions that aim to improve the hold and fit of your rifles over the generic carpet-wrapped particle board racks built into most gun safes.
Door organizers: Door organizers have pockets or pouches that attach to the inside of the safe's door. They are perfect for storing small items or accessories like spare magazines, hearing protection, documents, or other personal belongings.
Gun safe alarms: Gun safe alarms can be equipped with motion sensors or vibration detectors to alert you if the safe is tampered with or moved. They provide an extra layer of security to deter potential burglars.
Fireproof document pouches: It is advisable to keep important documents like insurance policies, passports, or legal papers in fireproof pouches within the safe. These pouches can withstand high temperatures and protect your vital documents from fire damage.
Corrosion-proof sleeves & bags: These nifty silicon-coated sock sleeves completely cover your rifles and handguns while inside your safe to keep rust at bay. There are also special plastic bags that aim to achieve the same result for long-term storage in a gun safe.
Gun safe covers: Gun safe covers provide an extra layer of protection against dust, moisture, and scratches. They also help to maintain the safe's appearance and extend its lifespan.
Gun safe shelf hanger baskets: Shelf hanger baskets inside the safe can increase storage capacity and facilitate better organization. They are especially useful for storing extra ammunition or other accessories.
As always, the best gun safe accessories will depend on your specific gun safe and needs. The extensively researched gun safe accessories that found a spot on our list will help you improve the safety, security, and organization of your gun safe many times over.
Gun Safe Accessories: Lighting
One of the most annoying things is fumbling around in the dark trying to grab something out of your safe. Enter LED lighting kits! These kits are designed to light up the interior of your safe, making it easier for you to find what you're looking for.
Best LED Safe Lighting Kits:
A lot of safes come with some rudimentary lighting but fail to illuminate your guns inside fully. That's where these aftermarket solutions come into play. Here are some of our favorite options that we've had great experiences with.
#1 Torchstar LED Lighting Kit
I love these lights! Easy to install, took me about 15 minutes for each safe. The difference is night and day. I prefer the switch to the movement sensor. Buy these!

Chrinstine D.
Full-Coverage LEDs!
#2 Litever LED Safe Lighting
Very good, the light turns on by itself whenever the door is opened, it took me about 30 minutes to install it

Jay I.
#3 PeakPlus LED Motion Lights
These work good for my safe. Sometimes you have to wave your hand to get them to come on.

Christian Brooke
#4 Hornady LED Gun Safe Lights
Easy install. Bright white lighting. Motion detection varies between the two light bars I bought. One is more sensitive than the other. They only stay on a short time before shutting off if they don't detect motion constantly. Overall they light the safe very well and I definitely recommend these safe lights.

Richard E.
#5 Vyanlight Motion LED Gun Safe Lights
Beyond easy to install, my two month can put these put. They are really bright which is great for me. The motion sensor is not delayed. Great quality I personally feel. Super light weight and durable. I'm not sure about the battery life just yet, but all it takes is 4 Triple A batteries for each light. So far I am super pleased wit this purchase

Ziniyah
#6 Mind & Action LED Gun Safe Lights
It's a fantastic light for a gun safe/cabinet. Motion sensor works great. The only thing I think is flawed is in the mounting options provided. If you were going to hard mount the light with screws there probably wouldn't be an issue but in using either the velcro provided or the magnetic strip you have to cut them otherwise they cover up the battery door. We all know batteries don't last very long so in changing them you would destroy either of these options.

SuperDave
Gun Safe Accessories: Dehumidifiers
You don't want your prized firearms corroding, do you? Of course not! A dehumidifier, especially the super affordable silica gel canisters, can absorb moisture within your safe, keeping your guns in tip-top condition.
Best Silica Gel Canisters & Bags:
Gel canisters are some of the most affordable ways to keep your guns rust-free and come in a variety of sizes and shapes.
Canisters tend to be larger than bags and are better suited for medium to large gun safes. Silica bags also come in a variety of sizes and the smaller ones are great for really small gun safes that don't have a lot of interior space.
#1 Hornady Reusable Canister 750G
Introducing the Hornady Reusable Canister Dehumidifier 750G, the perfect solution to keep your large gun safes and cabinets moisture-free.
With its reusable feature, this canister provides a practical and economical choice for gun enthusiasts, offering long-lasting protection against rust and corrosion.
Works great so far, a little bigger than I hoped but still not huge. Haven't had to warm it up yet so will see how that goes. Overall happy!

Mark
#2 Silica Gel Canister 3-Pack 200g
These small canisters (4″ long) are great for medium-sized handgun safes or you can put all three inside of rifle safe to ensure moisture control in humid environments.
I put these in my gun safe. They reduce the humidity by over half. I have a humidity meter in the safe so I can keep an eye on it. Here in Florida the humidity is high so something is necessary. Recharging them is easy so they last several weeks.

Dan Anderson
#3 Hornady Reusable Silica Bag 450g
These rechargeable Hornady Silica gel bags are very popular and affordable solutions to keep your guns corrosion-free inside of a small to medium-sized gun safe or cabinet.
I have been running 6 of these for 2-Years in the safe in the garage which is hot and muggy.. only had to recharge once…and…not a single drop of rust…. let that sink in…..these work and they work very well. Buy with confidence

Matthew
#4 Wisedry Rechargeable Silica Gel Bag 2-Pack 500g
These Wisedry silica gel bags are easy to recharge by cooking them in the microwave, making them more convenient and quicker to charge than the gel canisters.
Works great ,but be careful when microwaving to remove moisture you need a good little scale to weigh pouch until it gets down to it dry weight. A minute at a time in microwave then weigh you might need to let pouch cool down after each cook so you don't melt pouch

czmi
Electronic Dehumidifiers & Dryers:
There are two different types of electronic dehumidifiers that aim to achieve the same goal using different methods. The first type includes silica beads and employs electronics to automatically recharge, eliminating the need for manual recharging in an oven.
These models are wirelessly operated, rechargeable, and run on battery power. The second type relies on a heated rod to evaporate any moisture inside the safe.
For this type, it is necessary to connect it to an internal outlet within the safe or use a wire routed through a hole in the safe to an external outlet.
#1 Afloia Wireless Gun Safe Dehumidifier
These things are great. I recently bought a gun safe and didn't want to drill holes for an outlet so I got these for their reusability. It's about 35% humidity in my basement with my dehumidifier running all the time. These 2 canisters will drop my safe humidity to about 25% with the door closed. They aren't quite made for that much space but they work well. It takes about 2 hours on the base to "recharge" or dry out the beads.

Justin Burgess
#2 Eva-Dry Gun Safe Dehumidifier
Rashoxmon here with a solid review of the Eva-dry E-333 Mini Dehumidifier in White Sand. This little wonder is a game-changer for my gun safe. It's a moisture-busting champ that keeps things dry and pristine. When those orange beads switch to green, a quick 24-hour charge gets it ready for action again. Simple, effective, and a must-have for maintaining optimal conditions. If you're on the hunt for a reliable dehumidifier, the Eva-dry E-333 is a clear winner.

Rashoxmon
#3 Hornady Rechargeable Gun Safe Dehumidifier
Having so many options online it was hard to decide which was the best route to go. The rechargeable feature seemed the best option and has paid off. YES, it does take awhile for the beads to recharge BUT it lasts months. Truly happy I went this route rather than having one of these hot rod sticks in the safe running a risk for fire. Truly a solid purchase for a low price and the comfort of knowing your safe will be dehumidified.

Ryan W.
Gun Safe Accessories: Temp & Humidity Monitoring
Ever had that nagging feeling in your gut that makes you worry about the condition of the guns in your safe? Wouldn't it be nice to know when the conditions within your safe are running amok?
Well, digital hygrometer thermometers for gun safes give you a digital readout on the outside of your safe!
Best Digital Hygrometer Thermometers:
Designed to ensure the optimal conditions for storing firearms, these thermometers accurately measure both temperature and humidity inside the safe, revealing the environment within.
#1 Wireless Gun Safe Monitor
I purchased this hydrometer because it has great reviews for the wireless working through the safe. Other models for indoor outdoor units had questionable operation through the safe walls to the outside display. I don't know if that's true, but it was the reason I made the choice to this unit. This unit works fiine. Add batteries and you're ready to go. I have the display mounted outside on the safedoor. I also purchased the Hornady dry dehydrator canister. Internal safe humidity stays in the 40% range.

Mark
#2 Hornady Wireless Hygrometer Gun Safe Monitor
This is a great way to quickly check the interior conditions of my safe at a glance. No more need to open to make sure the dehumidifier is on. The magnets on the display could be stronger. Sometimes it starts to slide down the door which can get annoying.

Justin D.
Gun Safe Accessories: Organizers
Want to make the most of your space? Door panel organizers allow you to store handguns, magazines, and other small items on the door of your safe, freeing up shelf space.
These are, by far, some of the best gun safe accessories you can add since they instantly increase the storage capabilities of gun cabinets without a lot of room to spare for pistols, magazines, and ammo.
Best Door Panel Organizers:
The door panel organizers we've selected below come in a variety of sizes, so make sure to find the solution that will best fit your particular gun safe and the added features you're looking for.
Personally, we prefer the molle panels with lots of pockets and built-in holsters over the metal door hangers, but the metal panel hangers are great for smaller gun cabinets.
Gun Safe Accessories: Handgun Organization
Pistol racks and handgun holders are a gun enthusiast's best friend when it comes to safe organization. These nifty accessories not only keep your pistols neatly arranged, but they also make accessing them quick and hassle-free.
Best Pistol Racks & Handgun Holders:
With a friendly and efficient design, pistol racks and handgun holders ensure that your firearms stay securely in place, minimizing the risk of any accidental damage or scratches. This list contains our favorite foam racks, magnetic holders, and shelf hangers.
#1 Mind & Action Foam Pistol Rack 2-Pack
I bought the 8 pistol rack and was able to neatly fit 7 pistols on the top shelf in my safe. Neat and organized. I like them…

Ani A.
#2 Adoreal Foam Pistol Rack 2-Pack
So the top shelf of my safe is not very high due to the lower shelf and long rifles underneath. Needed something to organize the pistols. Some other options looked really cool but we're too thick on the bottom and I was worried about clearance with my pistols that had optics. These fit my 1911, 2011, CZ and everything else perfectly. The Desert Eagle wouldn't fit as the part where it rests near the muzzle is too small as well. After this test run I'm going to order a couple more for the rest of the pistols in the safe.

Charlie
#4 GPS Foam Pistol Cradle Holder
Absolutely perfect. Fits my Sig P320 .45 with laser and Glock 45 with tactical light a little snug but, better than the alternative of flopping over. Just ordered another for my other safe.

JC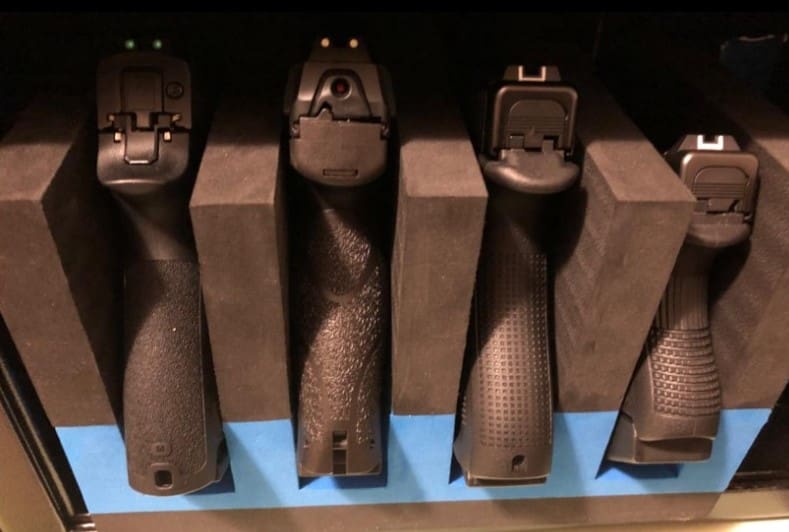 #5 Mind & Action Foam 4-Pistol Rack
Extremely easy to put together and has a soft finish that offers good support and will not scratch. Perfect to organize and allow extra storage room. I wish I would have gotten one sooner

David K.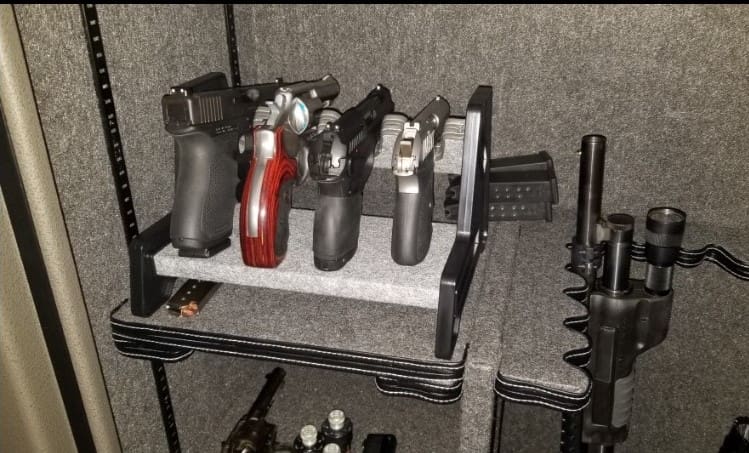 #6 Antreemag Foam & PVC Pistol Rack
I currently have a few very heavy full sized pistols ( with optics and lights) and revolvers stored in this rack and they all sit nicely and look great. This frees up a lot of room on my safe shelf.

Charlie
#7 UnitedPower Metal 4-Pistol Rack
Very nice rack especially for the price. Very sturdy and the trim is non marring and holds the pistols in place very well, even with a WML. Will be picking up another for sure.

BriBri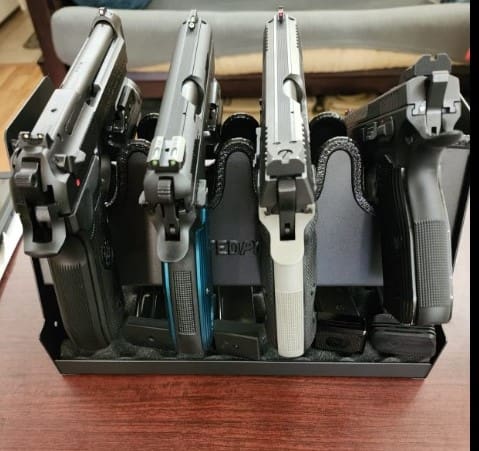 #8 BSTTEK Foam & PVC 6-Pistol Rack
This product was easy to put together, and I really like how it displays my weapons. Really happy with my purchase.

James W.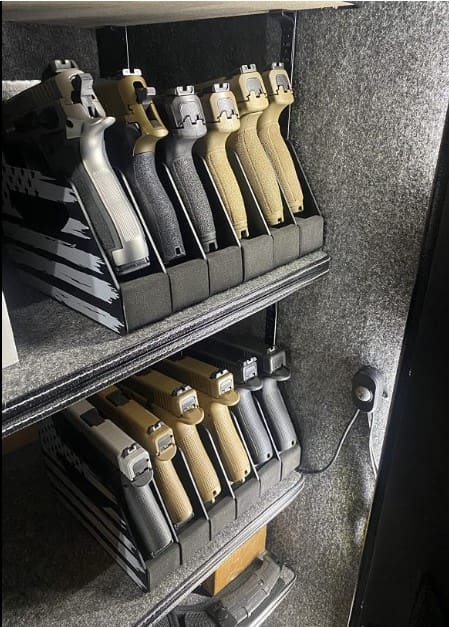 #9 Adoreal Metal 4-Pistol Rack
This rack worked well. It is sturdy. It came assembled – bonus! I was able to put it to immediate use without any issues. I would recommend.

Happy Customer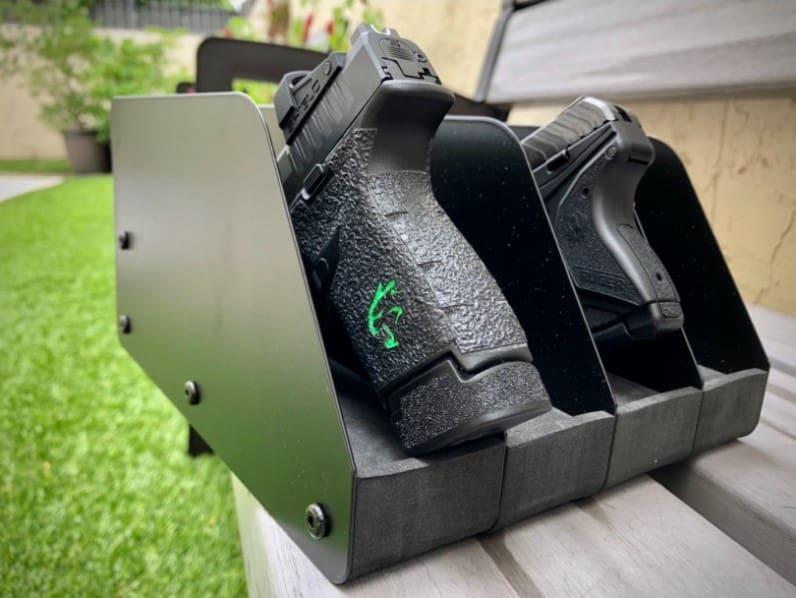 #10 BenchMaster Magnetic 2-Pistol Holder
My main purpose for purchasing these was to gain some room in my Safe. I am easily using the horizontal model of this product for that purpose and have left details in that review. So quickly here I'll say that the advertised dimensions are accurate, the foam is more than capable to hold the pistols and hold up to storage use and the plastic dividers/ ends are strong enough for the job also. They are holding a full load of 1911 pistols without a problem.

M.A. Vitale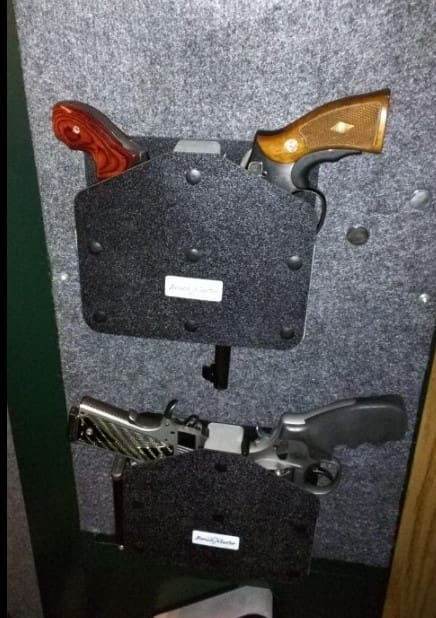 #11 Liberty Safe Over/Under Shelf Handgun Holders
fits neatly on the shelf and enables you to maximize space in your gun safe.

Happy Customer
#12 Gocybei Magnetic Gun Holder For Safe
 What I like about this is it the magnet is very strong it holds your pistol very securely and not only that you can rack the slide with the pistol in the in the magnet mount and that's awesome. I can't really think of anything I don't like about it I got two of them for $16 that's basically eight bucks a piece you can't beat that.

Harry H.
#12 TacBox FS Master Magnetics Pistol & 2-Mag Holder
Both my Beretta 92fs and Glock 48 fit just about perfect, especially when using the extra foam to get the correct fitment. Only complaint is over the 3M tape. I opted to get my own 3M tape with velcro to use instead of the one provided, because I wouldn't want the box's placement to be permanent in any singular vehicle. Other than that I'm happy with the product.

Omnirod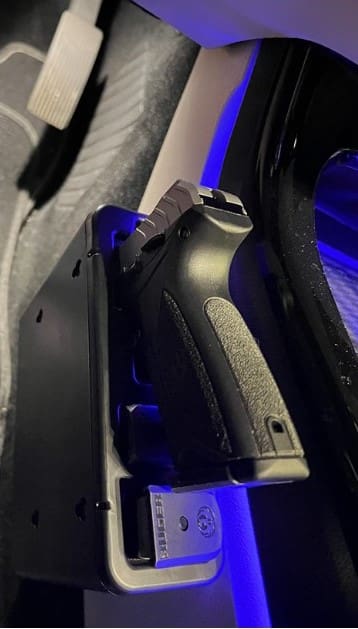 #13 Vaultek Modular Dual Pistol Rack
Fits nicely in my Verifi Smart Safe S6000 with room to spare. It's holding a H&K USP Compact 40 and Glock G45 with standard sights. Seems high quality.

Will2Power
Gun Safe Accessories: Rifle Organization
Let's face it… most rifle safes could use some additional rifle rack accessories that can adapt to rifles with super short or really long barrels.
Or, you may just need an extra mount or two to increase the capacity of your safe while keeping things tidy. That's where these awesome rifle organization accessories can really prove their worth.
Best Rifle Racks & Holders:
Here's a complete list of the best rifle racks and barrel holders that we've come across in our rifle-safe journey!
#1 Adoreal Magnetic 5-Slot Rifle Rack
I wanted something I can adjust to where I can place my long guns in and not have to depend on a fixed mount. As you know, long guns come in different forms, wide, shorter than some, etc… With this magnetic mount, I can adjust the placement with out having to drill holes and do the mount again.

The magnet is strong and the rubber coating is way better than the plastic fixed mounts this safe came with.
I highly recommend.

Noah Guy
#2 Universal Foam 5-Slot Rifle Racks
I don't have a gun safe, but I have a locking closet. I used these racks in the closet and they function exactly how I hoped. What used to be a little jumbled is now well organized. I am very happy with this purchase.

Steve
#3 Adoreal Foam w/Magnet 5-Slot Rifle Racks
These are amazing. They beat what comes with a gun cabinet by miles. They are magnetic and can moved and adjusted for different rifle or shotgun sizes. They can hold/cradle numerous guns without them being all up and each other. They can be attached to a truck or car when out hunting. They are made of of a solid soft covered foam.

Abe F
#4 Gun Safe Organizer Bundle For Rifles, Pistols, & Mags
Obviously my safe needed cleaning/organizing, but I couldn't have done this layout without this kit.

Adam
#5 Peregrine Field Gear Magnet Rifle Caddy
This works fantastic. Way better than a barrel rod extender. The only thing I think that could make it better is if they added an attachment to make it so it wasn't as close to the wall that way you don't have to rotate scoped rifles and can save room. Other than that they are great.

Joseph
Gun Safe Accessories: Magazine Organization
Loose magazines in larger gun safes can get out of hand quickly and really clutter up your valuable space! Adding some magazine organization into the mix will really clean things up while making everything else in your gun safe easy to find and access.
Best Magazine Holders:
Magazine holders come in several varieties and give you the ability to store your magazines inside your safe in a neat and organized way.
#1 Mind & Action Magnetic Gun Safe Magazine Holder
Works great for the price. Held full mags 9 mm, 45, and larger. Will only hold metal magazine, although they will hold up my polymer Glock mags with steel case rounds loaded.

Matthew K.
#2 Keeper MG Magnetic Gun Safe Magazine Holder
First time trying to organize my safe. Went with this more expensive model instead of a no name one.The magnets are strong! Had to use a good amount of force to shift it and align on my cabinet door.Holds mags up fine and I can imagine no issues with fully loaded mags.

Mr Neckbeard
#3 MagStorage Gun Safe AK-47/AR-10 Mag Holder
I love these mag storage holds 6 full or empty mags… have 4 for ar15 and now 3 for ar10 holds 5-30 round possibly the 40 round mags out there… great product very sturdy with several amounting options.

Vince
#4 MagStorage Gun Safe AR-15 Mag Holder
This is by far the best thing I've found to organize my magazines. Mounted them on the door of my safe. They freed up space inside my safe and look awesome! They also fit all my pmags with ranger plates and dust covers!

Torq22
#5 Case Club Gun Mag Holder Foam Insert For Ammo Can
Very nice, comes as a solid laser cut block allowing one to customize magazine height and gun cutout with the removable foam. The eleventh magazine is in the beretta. That space I used for three ten gram desiccants, Happy thanks.

Benjamin
#6 MytypeMAG 2-Pk Magnetic Gun Safe Magazine Holder
The magnet on this is really strong, I ended up just sticking it to the side of my safe. It comes with some screws and drywall anchors, so you have a few options for mounting right out of the box.

Christine M.
#7 Adoreal ABS PMAG Gun Safe AR-15 Magazine Rack
I personally was just try to find a way to efficiently use space and decided that attaching some neodymium magnets to this thing was the way to go. Works great on the safe just needs some rubber pads so it won't slide with more weight on it.

Veyder
Gun Safe Accessories: Firearm Protection
For those who don't frequently access and maintain their firearm collection, you can add an additional layer of rust protection on top of any moisture inhibitors you may already be using. These come in the form of silicon-impregnated sock sleeves and special corrosion-resistant plastic VCI-treated bags.
Best Sleeves & Bags For Corrosion Resistance:
Here's our list of the most effective products that'll keep the rust off of your beloved rifles and handguns relegated to "safe queen" status!
#1 Guguluza Extra-Thick Silicone-Treated Rifle Sock Sleeve
I highly recommend! These are durable quality as they are thick and you can feel how well the silicon is imbedded. I would definitely buy again or recommend to anyone needing to protect their long arms. Worth the investment, cant beat the price either.

Sunny
#2 Silicone-Treated Handgun Sock 6-Pack
Use to store items in safe. Not for protection against drops, hits, scratches! Soft crew sock material. You can add pure silicone spray to material if you need to resupply protection. I buy pure silicone at local auto parts store.

Steven C.
#3 GMW Extra-Thick Silicone-Treated Rifle Sock Sleeve
these seem to be good quality and fit perfectly on all my scopeless guns. I was able to get one on a gun that had a scope but it took me a while.

Kris K.
#4 Flyfan 5-Pack Silicone-Treated Rifle Sock Sleeve
This sock was for my new CZ 712 shotgun. Long, stretchy, quality material, durable, economical, and just exactly what I wanted for my new shotgun. The price was also great. I recommend.

quaker
#5 Victory VCI Rust-Free Rifle Storage Bags
These rust prevention storage bags work amazing. I live close to the coast where there is lots of humidity, a pretty corrosive environment for my firearms, especially the ones that have blued steel and can rust easily. I have been using these bags for quit sometime with no signs of rust on my firearms. 

Happy Customer
#6 Arms Preservation VCI Rust-Free Pistol Storage Bags
This is a very heavy duty bag with thick layers and a very strong velcro opening. I bought it as an easy way to keep less used guns rust free and liked that it came with a closure that didn't require zipties or tape.
The bags are easy to use, shipping was fast, and they're made in the USA

Michael K.
#7 TechnologyLK Zerust Rifle Storage Bags
These bags are great for my needs. I like the zip-top feature. It makes preparing my items for storage very easy. I hope to keep them in storage three or four years and think this is the way to do it. Thanks.

Happy Customer
Gun Safe Accessories: Security Upgrades
If someone tries to tamper with your safe, wouldn't you want to know immediately? This is where safe alarm systems come into play.
Most gun safes don't come with these alarm systems preinstalled and, even if they did, they'd likely be lacking some of the advanced features offered by our top pick below.
Best Safe Alarm Systems:
Monitoring systems for gun safes can send app alerts to your phone anytime tampering is detected.
#1 Simtek StealthALERT Monitor For Gun Safes
Despite its compact size, this powerful device boasts a multitude of functions, making it an essential and invaluable tool for strengthening your security measures.
The Simtek StealthALERT Safe Alarm is designed to give you the ultimate peace of mind. Experience unmatched protection and heightened awareness with this advanced Simtek StealthALERT Safe Alarm – an innovative invention crafted to seamlessly integrate into your secure luggage or any area that demands extra surveillance and alertness.
Features:
Your newest peace of mind. It fits in your handgun safe, luggage, or anywhere you need extra monitoring and awareness
3-IN-1 Intrusion Sensors – Passive Infrared Motion (PIR), Light, Accelerometer
Automatic Alerts – SMS text alerts and push notifications sent to your phone
1-Year Battery Life – Average 10 alerts per month
Low Battery Notifications – Know when to recharge
Temperature and Humidity – For every alert in Fahrenheit and Celsius
4G Cellular Connectivity – Pre-installed high-performance Simtek sim card for global connectivity
Custom Alert Messages – Name your sensor and customize alert messages
Add Multiple Subscribes – Include a spouse, partner, or trusted third party
Rechargeable with included Micro USB cable
No False Positives – Needs Human or Animal Motion to Trigger 
Approximate Location – Find it anywhere with cellular triangulation
Encrypted and Secure – Each Simtek alert is sent to your phone over a secure encrypted connection
Data plan required – $4.20 / month for unlimited alerts and a one-month free trial
Cancel Anytime – No contracts and no cancellation fees
30-Day Money Back Guarantee – Try it for 30 days without a credit card
1-Year Limited Warranty – Designed in the USA and backed by our world-class customer service
Gun Safe Accessories: Basket Organizers
For those with shelving in their gun safes, hanging a basket organizer is a great way to add extra space for holding important documents, accessories, or small handguns in the unoccupied spaces in your safe.
Best Shelf Hanger Baskets:
The options may be few and far between, but we did manage to find two great options that can fulfill different roles when mounted under a shelf, giving cramped safes some extra functionality.
#1 Lockdown Vault Drawer Under Shelf Gun Safe Organizer
Perfect for my customized riffle cabinet. It mounted right up to the shelf I built, and can hold all my important documents, wallet, etc.

Edgar Baron
#2 Hornady Hanging Shelf Basket For Gun Safe
I must say I'm impressed. It's a well-designed and sturdy addition to my safe without taking up valuable space. Can hold a decent amount of documents. Overall, it's a practical and effective accessory that helps me keep my essential documents organized and easily accessible within my gun safe.

Brandon
Gun Safe Accessories: Fire Protection
Even if your safe has a fireproof rating, it wouldn't hurt to add extra fire protection for important documents inside of your gun safe, just in case!
Best Fireproof Document Pouches:
These fireproof pouches help protect whatever you can fit inside them, whether that be documents, ammo, or small handguns. It can't hurt to add an additional layer of protection to your valuables, especially if your safe lacks fireproofing!
#1 SPVIOQI Fireproof & Waterproof Document Bag
I like this bag. It's appearance and is not heavy. It won't hold a lot of papers, but I purchased it to keep my will and planner safely. I have not tested it for fire resistance yet. I was impressed with the video and the comments of others.

Happy Customer
#2 GoodStuff Fireproof & Waterproof Document Bag
This works great for any important documents you need to keep from being damaged. give it a try, you will like it

Jamie
#3 ROLOWAY Fireproof & Waterproof Document Bag
I needed a large fireproof bag for my photo albums and other important documents, souvenirs , etc and this was the perfect size- it is very large, high quality, and closes thoroughly with a zipper and Velcro closure. I'm very satisfied, this is just what I was looking for.

Michele
Gun Safe Accessories: Safe Protection
This last category of accessories for your gun safe involves protecting your safe from prying eyes, dust, and fingerprints!
That's right, safe covers exist to hide your safe in plain sight, especially useful for safes mounted inside garages that can be seen by anyone passing by an open garage door.
Best Gun Safe Covers:
We round up the most highly-rated gun safe covers in various sizes to fit a variety of safe footprints. Typically made out of a tear-resistant and waterproof 600D Oxford cloth, some of these covers even incorporate zippers that allow quick access to your safe without needing to completely remove it.
#1 Gun Safe 600D Large Dust Cover
We have now had this cover for over 6 months and so far it is wearing very well. It does a great job of covering and protecting our safe. Would definitely purchase again.

Kerrfully Created Designs
#2 BRUXOLAY Gun Safe Medium 600D Dust Cover
Will keep important stuff outside kids' and strangers' hands. Good for basic security.
Good product.

J. Valdez
#3 Next Station Large Dust Cover
The fit and quality is ten times better than the Liberty Safes brand cover I had to replace. I'm using this cover for my Liberty Safes Lincoln 30. Buy it.

mauiglide
Final Thoughts
A gun safe is like a steak dinner; it's not complete without a few sides to round it out. From lighting to dehumidifiers, organizers, and even alarm systems, these must-have gun safe accessories will elevate your safe from a mere box to a secure, organized, and efficient firearm storage ecosystem.
So, do yourself a favor and don't skimp on these accessories. Your firearms—and your sanity—will thank you.