Just like guns need their dedicated safes, ammunition should enjoy some specialized storage to keep it both safe and accessible.
This is not just a matter of preventing unauthorized access; it's also about maintaining the quality and reliability of your ammo.
In this article, we'll walk you through the top ammo storage solutions available on the market. From classic steel cabinets to high-tech biometric safes, we've got your needs covered.
We'll also dive into the pros and cons of various types of ammo safes so you can make an informed decision.
Best Ammo Safes to Buy in 2023
Whether you've got a small, medium, or large stockpile of ammunition, we've rounded up the 7 best ammo safes that will meet, or exceed, your particular needs.
In our experience, it's always a good idea to buy the largest ammo safe you can afford to accommodate the future growth of your stockpile.
#1 Hornady Welded Ammo Cabinet
The Hornady welded ammo cabinet is the only purpose-built ammo safe on this list and commands the highest price as a result.
We still think this makes a great option (when available) for those looking for a super sturdy ammo storage solution that will easily hold up to the weight of the ammo over extended periods of time.
Purpose-Built Ammo Locker
Pros:
Secure storage: The Hornady Welded Ammo Cabinet securely stores ammunition, keeping it away from children or unauthorized individuals.
Durable construction: Made of sturdy 16-gauge steel with a welded design, ensuring durability and strength.
Ample storage space: Holds a respectable amount of ammo boxes of various calibers with space for several large ammo cans.
Adjustable shelves: Customize the interior layout according to individual needs with adjustable shelves.
Cons:
Price: The Hornady Welded Ammo Cabinet may be more expensive compared to other options.
Limited mobility: Difficult to move due to size and weight, making it less portable.
Limited capacity: May not be enough storage for larger ammo stockpiles.
Lack of advanced security features: Basic security, but lacks biometric locks or digital keypad entry systems.
Bulky design: Although not as large as other options on this list, it may be inconvenient for those with limited space or who prefer a more compact storage solution.
#2 TigerKing Fireproof Safe Ammo Storage
The TigerKing fireproof safe box is the largest standard fire-safe storage solution on this list. It can be used to store a good amount of ammo boxes with its built-in shelves and has a quick-access electronic keypad lock to make retrieving your ammo fast and easy.
Good Fire Protection
Pros:
Fire-resistant: The TIGERKING Safe Box is designed to withstand high temperatures (up to 1200 degrees) and protect your belongings from fire for up to 30 minutes.
Spacious storage: With a capacity of 3.47 cubic feet, this safe provides plenty of room to store ammunition and other items.
High-quality construction: The safe is made from solid steel and has a reinforced door, ensuring durability and security.
Advanced security features: It has an electronic keypad lock with a digital LED display, which allows for easy and secure access.
Interior organization: The safe includes adjustable shelves and a removable drawer, enabling you to organize and arrange your items effectively.
Cons:
Weight and size: With a weight of around 80 pounds, this safe may be difficult to move or install without assistance. Additionally, its size may be a challenge if you have limited space available.
Limited portability: Due to its weight and size, the safe is not easily portable and may not be suitable for individuals who frequently relocate.
Price: While the TIGERKING Safe Box offers excellent features and high-quality construction, it may be a bit expensive compared to other safes available in the market.
#3 MAXSafes Biometric Fireproof Ammo Safe
The MAXSafes fireproof safe is our recommendation if you have small boxes of ammo that you want to protect in the event of a fire.
It features biometric access as well as an electronic keypad with a backup key as a fail-safe. This makes a perfect ammo safe for handgun ammo.
Biometric Access
Pros:
Biometric fingerprint scanner: The biometric fingerprint scanner ensures secure and quick access to the safe. It eliminates the need for remembering complex combinations or carrying keys, offering convenience and ease of use. Only authorized users with registered fingerprints can unlock the safe.
Fire-resistant: The safe is specifically designed to be fireproof, protecting your firearms and ammunition from heat and flames. It can withstand 1200-degree temperatures for up to 30 minutes, ensuring their safety.
Ample storage capacity: With a 2 cubic feet capacity, the safe provides enough space to store multiple boxes of ammunition.
Sturdy construction: The safe is constructed with high-quality materials, featuring a solid steel body and reinforced door for enhanced security. It is resistant to tampering or forced entry, keeping your ammo protected from curious children.
Versatile storage options: The safe includes adjustable shelves and compartments, allowing you to customize the storage according to your needs.
Pre-drilled mounting holes: The safe comes with pre-drilled holes, enabling easy installation. You can securely mount it to a wall or floor, offering added stability and preventing unauthorized removal.
Cons:
Cost: The MAXSafes Biometric Fingerprint 2 Cu-Ft Fireproof Safe Box may come with a higher price point compared to traditional safes. The advanced biometric technology and fireproof features contribute to its higher cost.
Potential fingerprint recognition issues: Biometric technology may occasionally encounter issues with recognition due to factors like dirt, moisture, or changes in fingerprint patterns. Regular cleaning and maintenance are necessary to ensure consistent and accurate fingerprint recognition.
#4 Anxxsu Metal Ammo Storage Locker
This Anxxsu metal storage locker makes a great makeshift ammo safe that can accommodate a good amount of ammo cans and smaller ammo boxes. You can also throw a rifle or two in there in a pinch.
Pros:
Durable construction: The Anxxsu Metal Storage Locker is made of high-quality steel, which ensures its durability and long-lasting performance.
Ample storage space: With a height of 55", this locker provides ample storage space for storing ammo or other personal belongings.
Secure locking system: The locker comes with a door that has a basic locking mechanism, providing enhanced security for your stored items.
Versatile use: This locker can be used in various settings including schools, gyms, offices, or even at home, making it a versatile storage solution.
Ventilated design: The locker features a ventilated design, allowing for air circulation and preventing any unpleasant odors or dampness.
Easy assembly: The locker is relatively easy to assemble, and it comes with clear instructions, making the installation process hassle-free.
Cons:
Limited customization: The locker may not offer much flexibility in terms of customization options since it only comes with one shelf.
Lack of mobility: Once assembled, the locker is not easily portable, making it less suitable for situations where frequent movement or relocation is required.
Vulnerable to scratches and dents: The metal construction of the locker makes it susceptible to scratches or dents during shipment, or in high-traffic areas.
#5 Yizosh Metal Ammo Storage Locker
The Yizosh metal storage locker is the perfect example of a makeshift ammo safe locker that features ten lockable compartments allowing you to store your entire stockpile of ammo in a secure fashion.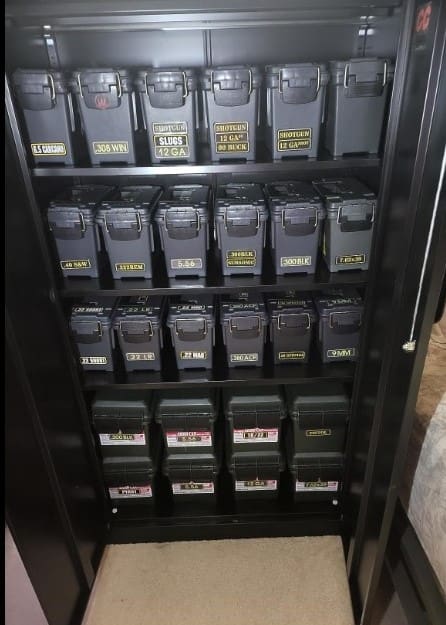 Pros:
Ample storage space: The Yizosh Metal Storage Cabinet offers a significant amount of storage space with 10 locking doors, allowing you to organize and store ammunition securely.
Durable construction: Made of metal, this storage cabinet is built to last and can withstand heavy usage, making it suitable for home and industrial environments.
Lockable doors: Each door of the cabinet comes with its lock, providing enhanced security for your stored items and allowing you to restrict access when necessary.
Versatile usage: Thanks to its spacious design and multiple locking doors, this cabinet can be used to store a wide range of items, including office supplies, electronics, personal belongings, and more.
Neat and organized appearance: The cabinet's multiple doors and lockable compartments help keep your items neatly arranged and easily accessible, ensuring a clutter-free environment.
Cons:
Size and weight: At 71″ tall, this cabinet may be too large for some spaces, especially smaller rooms or offices. Additionally, its weight might make it difficult to move or reposition.
Assembly required: The cabinet may require assembly upon delivery, which can be time-consuming and may require additional tools. If not assembled properly, it could affect its stability and functionality.
Limited customization options: The cabinet comes with a pre-determined door configuration, so you cannot rearrange or modify the number and position of the doors according to your specific needs.
#6 Anxxsu Metal Storage Ammo Locker
The Anxxsu metal storage locker is by far the best-looking makeshift ammo safe locker with its distressed paint scheme. With three lockable storage compartments, it can securely store many boxes of ammo with ease!
Pros:
Spacious storage: The Anxxsu Metal Storage Locker has three doors and provides ample storage space, making it suitable for storing a variety of items, like ammo or other personal belongings.
Durability: Made from sturdy metal, this locker is built to withstand daily use and is resistant to wear and tear.
Security features: The three doors of this locker come with secure locking mechanisms, providing enhanced security for the stored items.
Ventilation: The metal construction of the locker allows for proper air circulation, preventing the stored items from getting musty or developing foul odors. This feature is especially important for storing items that may be prone to moisture damage, such as ammunition or firearms.
Easy to clean: The smooth metal surfaces make it easy to clean this locker using just a damp cloth, ensuring a hygienic storage solution.
Cons:
Assembly required: The Anxxsu Metal Storage Locker comes unassembled, so users will need to spend some time and effort in putting it together. This may be a disadvantage for individuals who prefer ready-to-use products or those with limited DIY skills.
Limited customization: As this locker is designed with pre-determined compartments, there may be limitations in terms of customizing the storage space to suit individual needs. This may be a drawback if users require a more flexible storage solution.
Noise level: The metal construction of the locker may produce a noticeable sound when opening or closing the doors.
Lack of mobility: Once assembled, this locker may be cumbersome to move around. This could be inconvenient if users require a portable storage solution that they can easily transport between different locations.
Add Some Ammo Cans
Adding ammo cans to your large ammo safes really helps to organize the space inside the cabinet. We recommend the following two types of ammo cans: Steel and Plastic.
The steel ammo cans are the most durable but add considerable weight to the shelves while the plastic version only adds a marginal amount of weight.
#1 HardRock Metal Ammo Can
HardRock is one of our favorite metal ammo cans on Amazon and is the one we recommend the most to friends and family.
#2 Plano Field Ammo Box
Plano is one of our favorite brands and this sturdy plastic-molded ammo box is a great addition to use in ammo safes with large shelves.
Lightweight Ammo Box
Pros & Cons of Different Types of Ammo Safes
There are several types of safes that can store ammunition in various quantities, depending on the size of your stockpile.
Some are designed specifically for storing ammo in boxes or ammo cans and have built-in shelving to keep things organized. Other types are merely gun safes or standard safes that can be repurposed to store your ammunition as you see fit.
Let's take a look at the Pros and Cons of each type:
Steel Cabinets
Steel cabinets can be of the multi-purpose variety or purpose-built for storing ammo.
Pros:
Generally less expensive
High storage capacity
Easy to install
Cons:
Limited theft protection
No fire resistance
Typically lack advanced locking mechanisms
Biometric Safes
Biometric safes are typically found on gun safes and standard safes that can be repurposed for ammo storage use.
Pros:
Quick access through fingerprint recognition
High security
Often fire-resistant
Cons:
Expensive
Limited storage capacity
Requires battery or electrical power
Mechanical Lock Safes
Mechanical lock safes are found on some purpose-built ammo safes as well as gun safes and standard safes.
Pros:
Highly reliable
No need for power supply
Often built with steel, providing solid protection
Cons:
Slower to access
Can be pricey, depending on the model
Often heavier and harder to move
Fire-Resistant Safes
There are some fire-resistant ammo safes but they are not as common and most people simply repurpose their fire-resistant gun safes or a standard fireproof safe to store their ammo.
Pros:
Provides protection against fire damage
Often come with advanced locking systems
Can sometimes store both guns and ammo
Cons:
Expensive
Heavier and bulkier
May require professional installation
Conclusion
The safety and security of your ammunition should never be an afterthought. Whether you're a casual gun owner or an avid shooter, investing in a quality ammo safe is not just responsible but also practical.
It helps ensure that your ammo stays in top condition while minimizing the risks associated with unauthorized access or environmental factors like fire.
In this article, we've shown you our best ammo safe recommendations and explored the various types of ammo safes, each with its own set of pros and cons, to help you choose the one that fits your needs and preferences.
Now that you're armed with this knowledge, making a decision should be a bulletproof process.