The Gold AK is beloved by many countries around the world including the US. This article shows one Gold AK selling for nearly $10,000 USD, which is mind-blowingly expensive.
They are a status symbol that demands respect and are often a favorite amongst drug cartels and dictators alike. Saudi princes often adorn their Gold AK with precious stones like diamonds and rubies and give them as gifts to form political alliances.
Some people think the Gold AK is extremely gaudy but others love the shine of gold on their guns.
Gold plating is not a very durable way to coat the metal on an AK 47 and most of these AKs are not fired but collected, gifted, or displayed in museums, or on a wall in a mansion or palace.
Gold-colored titanium nitride is actually more expensive than real gold plating due to the extra polishing of the base metal required in order to achieve a gold-like shine.
Any gun with this coating can be fired without worrying about the finish flaking off.
Real gold-plated AKs are showpieces for your collection and are not meant to be used. Titanium nitride AKs, on the other hand, look just like gold but are durable enough for everyday use.
---
Gold AKs with custom engravings and jewel-encrusted can cost up to $10,000 and more. These are typically standard AKs with added bling and lack any real pedigree or provenance.
Saddam Hussein's gold AK, for instance, would probably sell for multitudes more but that will never happen unless it was stolen and sold on the black market!
There have been a lot of gold AKs and other gold guns seized during drug cartel raids and hundreds of gold AKs from former dictators like Saddam Hussein that were acquired in a raid in Iraq by US Special Forces.
Saddam's Gold AK-47 is now in a permanent exhibition in Australia's War Memorial Museum.
---
Saddam Hussein's Gold AK-47 Underfolder on Display
---
The centerpiece of Saddam Hussein's collection was this beautifully plated gold AK 47 under-folder that was acquired by US Forces in Iraq after the fall of the dictator.
Saddam Hussein's golden gun given to the museum a gold-plated assault rifle, once carried by one of the late Saddam's palace guards, will go on display at the Australian War Memorial.


The eye-catching weapon was today handed by army deputy chief Major General John Cantwell to war memorial assistant director Nola Anderson today for permanent display in the new post-1945 gallery.
War Memorial senior curator

Nick Fletcher said this is a fully functional Iraqi-manufactured Tabuk, a version of the ubiquitous Kalashnikov AK-47.

"The great attraction is that it's gold plated. It's a genuine full-on shiny gold gun," he said.

"I gather it's because it was one of the guns carried by Saddam's personal guard," he said.

"It's an interesting item. We think it's going to make a good exhibit. I think it says a few things about the excesses of the Saddam regime that will speak to people."

Just how many of these were made isn't clear. Mr. Fletcher suggested perhaps a few hundred at most.

This one was found by soldiers of the US Army's 101st Air Assault Division in operations in the city of Kirkuk in northern Iraq.

The golden gun will go on temporary display this week.
Saddam's golden AK was rumored to be just one of a few hundred that the former dictator owned and was even carried by his palace guards.
Gold AKs speak to the corruption of Saddam's regime as his people no doubt suffered through poverty and violent injustices perpetrated during the dictator's reign.
It is said that the gold AK-47 magazine on display was used to kill dozens of people, adding a bloody tint to its sparkling gold finish.
If you've ever wondered what became of Saddam Hussein's gold-plated arsenal, check out the YouTube video below.
---
Gold AK For Sale Online
---
Despite being synonymous with drug lords, thugs, and evil dictators, there always seems to be some demand for these golden-clad AKs as a symbol of wealth and status for the serious gun collector.
Of course, there are cheaper ways to get the look of gold (think titanium nitride) without the high price tag but a real gold-plated AK is considered an investment that will appreciate considerably in value versus a faux gold counterpart.
Just to give one example, Hushhush.com is selling a real gold-plated AK-47 under-folder with diamonds embedded in the magazine for a whopping $9,671! You can see pictures of this custom gold-plated AK 47 below.
It's still available for sale in 2022 if you've got deep enough pockets and a leprechaun-like love for shiny gold!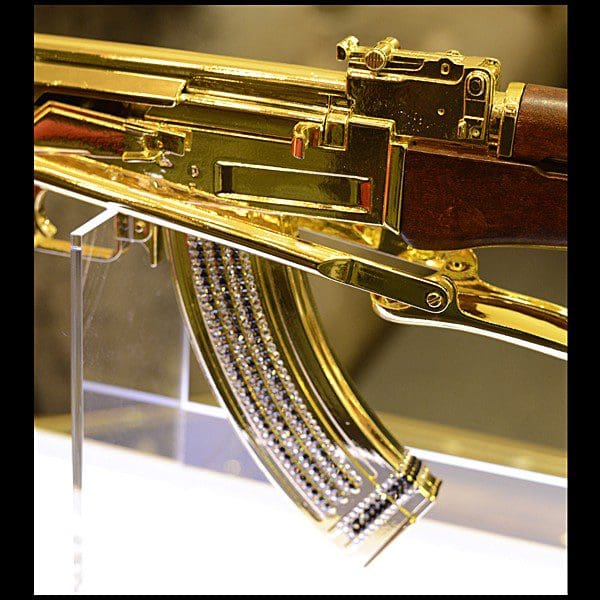 The description on the Hush Hush website:
Assault Rifle AK-47 gold finish. Authentic limited edition piece numbered 01/15. Finish with gold leaf. Based on plexiglass with LED light and a system of color variation and intensity incorporated. Transparent plexiglass cover. Rifle: L64xD06xH27 Plexi on base: L75xD15xH46.5cm Pacific Compagnie collection.
Seattle Engraving Center at one point sold a gold-plated VSKA AK-47 that sells for $4,000! Unfortunately, they are no longer in stock but they may do one-offs by request if you've got the spare change.
---
Gold AK in Movies
---
AK-47s are very popular in Hollywood movies usually being used by the bad guy. Gold AKs, however, are not nearly as common but in the movie "Lord of War" (starring Nicolas Cage) we finally get to see one on display on the big screen!
The poster for the Devil's Double is solid gold, exhibiting a gold AK in each hand. Based on the true story of Saddam Hussein's body double.
---
Gold AK Seized From Drug Cartels
---
There's a vast collection of gold AKs seized in raids all over Central America, South America, and Mexico. These Gold AK trophies are typically owned by Cartel Bosses and drug Kingpins.
The picture below shows a gold AK that was seized during a raid on the Zetas cartel in Honduras.
Drug Lords never seem to see these raids coming… perhaps they should find better places to stash their beloved Gold AKs!
We're not sure if the picture below is a gold AK seizure or just somebody flexing their awesome collection of golden delights!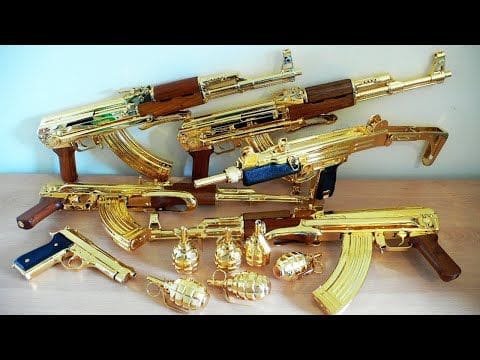 ---
Gold AK Exchanged as Gifts Between Pakistan and Saudi Arabia
---
It appears as though Gold AKs are the ultimate gift horses in the Middle East. Who wouldn't want such an exquisite AK-47 among their collection of gold watches, chains, jewelry, and multi-million dollar hypercars that don't even exist (Lykan Hypersport)?
Below is an immaculately-engraved gold-plated AK-47 that Pakistan gifted to the Saudi Prince Mohammad bin Salmon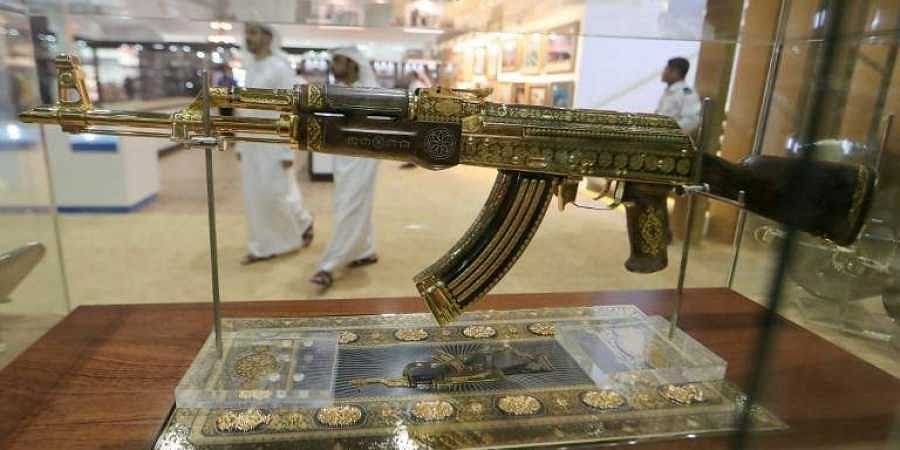 ---
How To Get Your Own Gold AK (Spoiler: It's not cheap!)
---
It turns out that it's cheaper to gold-plate an AK than have it electroplated with titanium nitride. Titanium nitride coatings are nearly indistinguishable from gold plating and are actually preferable to gold if you're actually going to use your AK.
In the video below, Dan explains the cost of getting his AK to look like gold and it's actually quite expensive! First, you've got to completely disassemble the AK and send all of the parts, including rivets, to get them to a mirror polish.
It turns out that titanium nitride coatings take on the finish of the metal below it, so if you want a shiny gold look you have to get every part perfectly polished. That process alone costs $1,200 bucks!
Then, you send out the polished parts to TitaniumGun to get them electro-tin-plated with titanium nitride which costs an additional $1,500- depending on the number of parts that need to be plated.
The last process is getting the finished Gold AK parts reassembled, and that part can be tricky as the coating makes the parts a bit harder to fit than before.
Fortunately, Dan had his buddy the AK Guy, Brandon Herrara, put it back together for him. I'm not sure how much that last part cost him (probably free), but by the time everything is said and done, you're looking at $3-$4k out of pocket!
All that said, I think it would be better to just get your AK-47 gold-plated to save some time, and money, and avoid polishing and shipping costs if all you want to do is hang it on your wall for show.
Below is a YouTube video by "Do it with Dan" that shows you how to get your own Gold AK!
Gold-plating on guns is purely decorative as it flakes off rather easily if you actually use the gun you've had plated!
There is a reason companies like Magnum Research use Titanium Nitride to make their gold Titanium Tiger Desert Eagle Mark XIX 50AE; that's because it's an extremely durable coating that's not merely decorative and, unlike gold, can be used to plate every part of the gun- inside and out!
---
FPS Russia Shoots Explosives with His "Gold" AK
---
Back when FPS Russia was a thing and before the FBI raided his apartment and seized all of his weapons, FPS Russia shoots his gold-ish-looking AK-47 with explosive rounds at an explosive target.
Still entertaining after all these years!
Well, that about wraps it up, comrades! This was all the info we could find on the holy grail of AKs- the Gold AK. Stay tuned for more AK-related articles from Exoc Tactical. Until then, it's been golden!