A gun safe pistol holder is one of the best ways to maximize your safe's limited space. Proper organization of your pistols starts by taking advantage of empty spaces within your space and cleaning up your shelf space.
In this article, we'll show you our top 13 recommended handgun racks and a few unique products that utilize the open spaces within your safe.
We finish up with a comprehensive guide to gun safe pistol holders with everything you need to know to get your pistol organization under control!
Top 13 Gun Safe Pistol Holder Racks in 2023
If you're tired of the cluttered mess your cramped gun safe has become, worry not because we've rounded up 13 exceptional pistol holder racks of various designs, materials, and modularity to suit a wide range of safe sizes and use cases.
#1 Mind & Action Foam Pistol Rack 2-Pack
I bought the 8 pistol rack and was able to neatly fit 7 pistols on the top shelf in my safe. Neat and organized. I like them…

Ani A.
12 Pistols!
#2 Adoreal Foam Pistol Rack 2-Pack
So the top shelf of my safe is not very high due to the lower shelf and long rifles underneath. Needed something to organize the pistols. Some other options looked really cool but we're too thick on the bottom and I was worried about clearance with my pistols that had optics. These fit my 1911, 2011, CZ and everything else perfectly. The Desert Eagle wouldn't fit as the part where it rests near the muzzle is too small as well. After this test run I'm going to order a couple more for the rest of the pistols in the safe.

Charlie
Low-Profile Design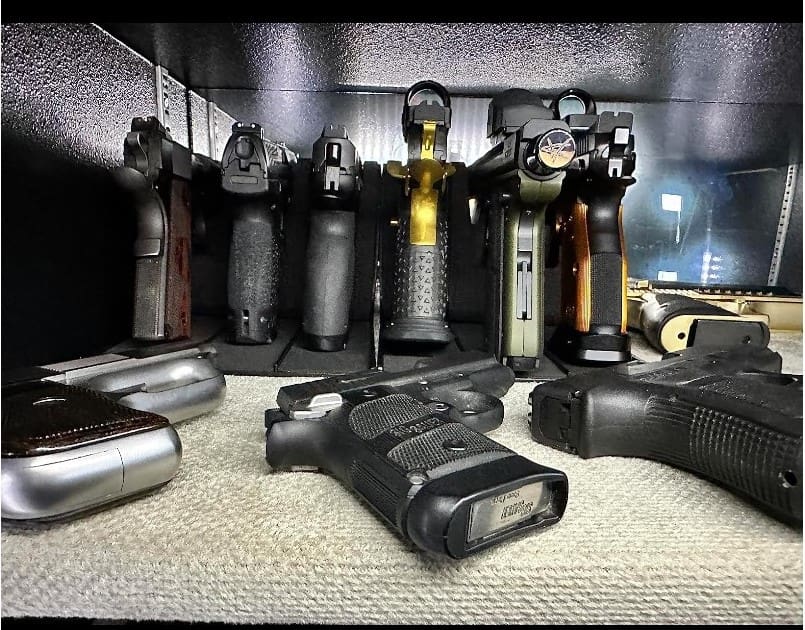 #3 Liberty Safe Under Shelf Pistol Holder
Installed these a couple months ago and they work great for my compact 9mm guns they are currently holding. Easy to install in my safe, and just as easy to hang and remove my firearms from them.

Richard
Great For Shelves!
#4 GPS Foam Pistol Cradle Holder
Absolutely perfect. Fits my Sig P320 .45 with laser and Glock 45 with tactical light a little snug but, better than the alternative of flopping over. Just ordered another for my other safe.

JC
Great For Safe To Range Bag Use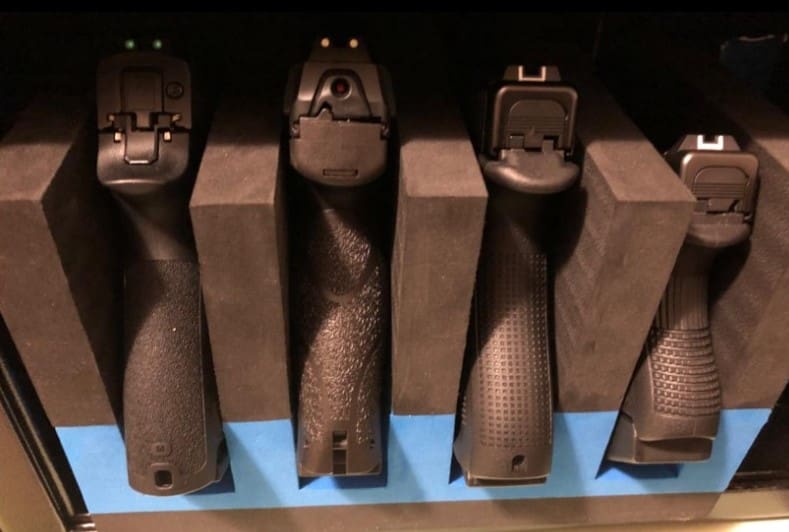 #5 Mind & Action Foam 4-Pistol Rack
Extremely easy to put together and has a soft finish that offers good support and will not scratch. Perfect to organize and allow extra storage room. I wish I would have gotten one sooner

David K.
Display Your Guns In Style!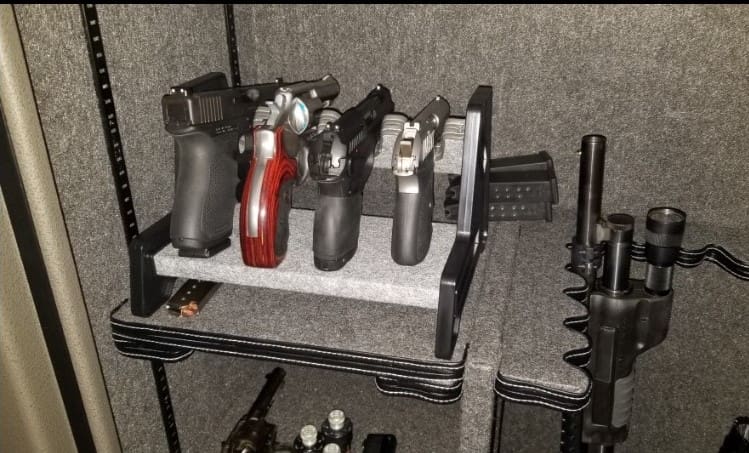 #6 Antreemag Foam & PVC Pistol Rack
I currently have a few very heavy full sized pistols ( with optics and lights) and revolvers stored in this rack and they all sit nicely and look great. This frees up a lot of room on my safe shelf.

Charlie
Minimalist Design
#7 UnitedPower Metal 4-Pistol Rack
Very nice rack especially for the price. Very sturdy and the trim is non marring and holds the pistols in place very well, even with a WML. Will be picking up another for sure.

BriBri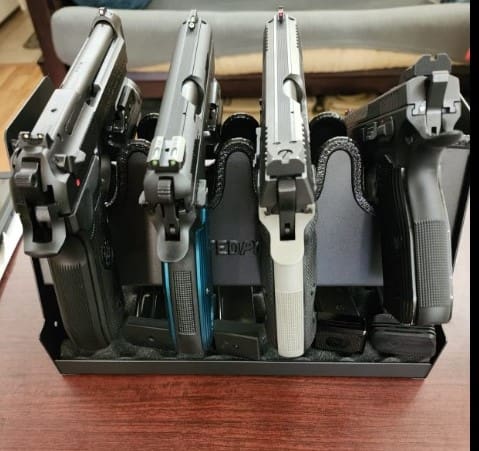 #8 BSTTEK Foam & PVC 6-Pistol Rack
This product was easy to put together, and I really like how it displays my weapons. Really happy with my purchase.

James W.
Patriotic Design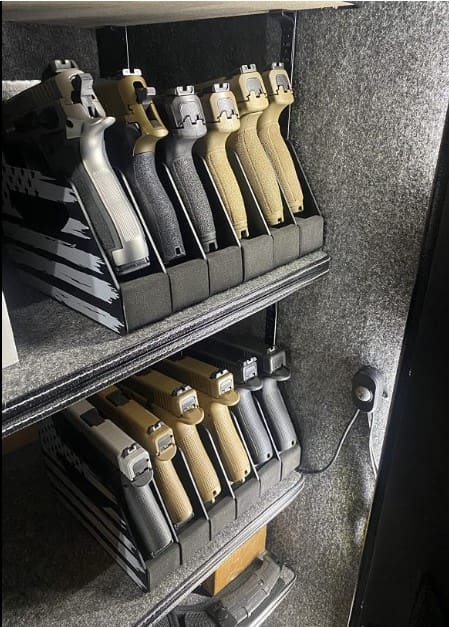 #9 Adoreal Metal 4-Pistol Rack
This rack worked well. It is sturdy. It came assembled – bonus! I was able to put it to immediate use without any issues. I would recommend.

Happy Customer
Super Sturdy Steel Rails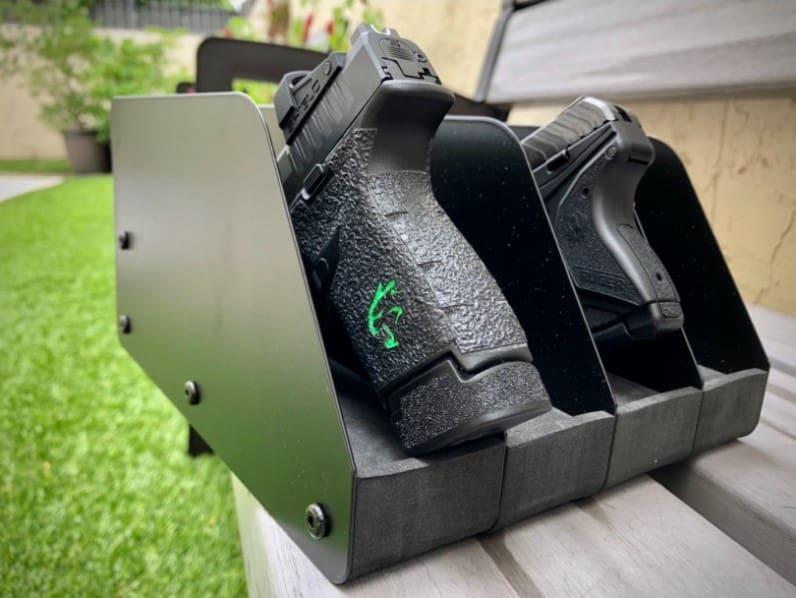 #10 BenchMaster Magnetic 2-Pistol Holder
My main purpose for purchasing these was to gain some room in my Safe. I am easily using the horizontal model of this product for that purpose and have left details in that review. So quickly here I'll say that the advertised dimensions are accurate, the foam is more than capable to hold the pistols and hold up to storage use and the plastic dividers/ ends are strong enough for the job also. They are holding a full load of 1911 pistols without a problem.

M.A. Vitale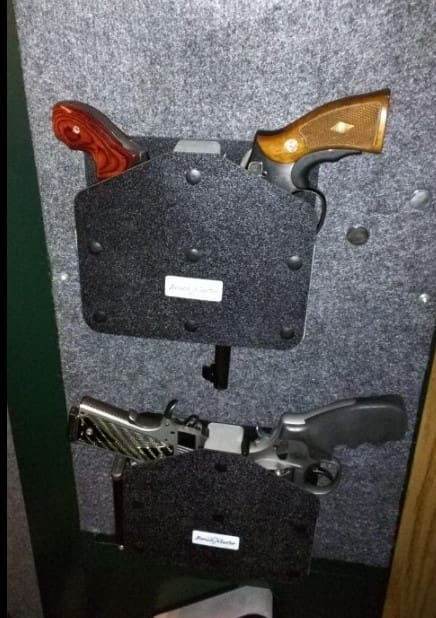 #11 Liberty Safe Over/Under Shelf Handgun Holders
fits neatly on the shelf and enables you to maximize space in your gun safe.

Happy Customer
Top & Bottom Shelf Storage
#12 Gocybei Magnetic Gun Holder For Safe
 What I like about this is it the magnet is very strong it holds your pistol very securely and not only that you can rack the slide with the pistol in the in the magnet mount and that's awesome. I can't really think of anything I don't like about it I got two of them for $16 that's basically eight bucks a piece you can't beat that.

Harry H.
Crazy Strong Magnet!
#12 TacBox FS Master Magnetics Pistol & 2-Mag Holder
Both my Beretta 92fs and Glock 48 fit just about perfect, especially when using the extra foam to get the correct fitment. Only complaint is over the 3M tape. I opted to get my own 3M tape with velcro to use instead of the one provided, because I wouldn't want the box's placement to be permanent in any singular vehicle. Other than that I'm happy with the product.

Omnirod
From Safe To Vehicle Duty!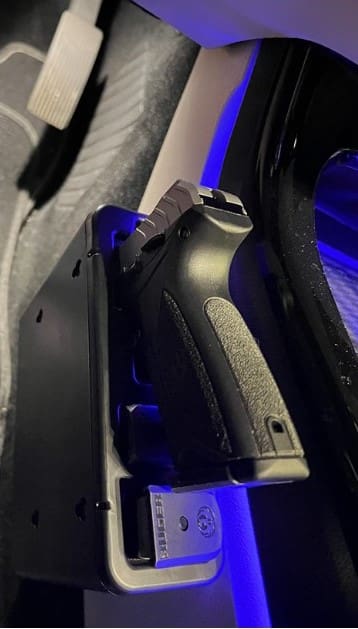 #13 Vaultek Modular Dual Pistol Rack
Fits nicely in my Verifi Smart Safe S6000 with room to spare. It's holding a H&K USP Compact 40 and Glock G45 with standard sights. Seems high quality.

Will2Power
Superior Barrel Retention!
---
The Comprehensive Guide to Gun Safe Pistol Holders
Introduction
In the world of firearms safety, organization is key. With gun safes already being an essential tool for secure storage, many gun owners still overlook the importance of interior organization, specifically for handguns.
A gun safe pistol holder is not just an accessory; it's an integral component of effective and efficient storage.
This bonus section aims to provide a comprehensive understanding of gun safe pistol holders, their utilities, and the benefits of using aftermarket solutions when built-in options are absent.
The Necessity of a Pistol Holder in Gun Safes
Efficient Use of Space
One of the first advantages of a pistol holder is the efficient use of space.
A well-designed pistol holder can maximize the storage capacity of your gun safe by stacking handguns vertically or horizontally, often in an offset manner, to optimize space.
Quick Access
The way handguns are arranged in a pistol holder allows for quick and easy access.
This arrangement eliminates the need to shuffle through various items, which is crucial in emergency situations.
Minimized Risk of Damage
Pistols placed directly on shelves or crammed into inadequate spaces risk cosmetic and operational damage.
Pistol holders keep firearms secure and separate, minimizing the chance of scratches, dents, or mechanical failure.
Enhanced Organization
Beyond just saving space, an organized safe allows for quicker inventory checks and easier management of your firearm collection.
Types of Pistol Holders
Racks
Pistol racks can come in several different forms, such as wire, foam, or metal, each with its own advantages and disadvantages in terms of durability, cost, and protective quality.
Door Organizers
These are generally sleeve-like compartments or pockets that hang from the inside of your gun safe door. They provide quick access but are generally not as secure as racks.
Shelves and Drawers
Some pistol holders integrate seamlessly into existing shelves or include their own drawer systems, allowing for more comprehensive organization solutions that can also include space for accessories and ammo.
Magnetic Holders
For the modern gun safe, magnetic pistol holders provide a unique and efficient storage solution.
They make use of powerful magnets to hold the gun in place, allowing for both easy access and additional space-saving.
Benefits of Aftermarket Solutions
Customization
When your gun safe lacks built-in features for handgun organization, aftermarket pistol holders offer a higher degree of customization to suit your specific needs and preferences.
Scalability
Start small and expand as your collection grows. Aftermarket solutions often allow for modular additions, unlike built-in racks that offer limited scalability.
Cost-Efficiency
Aftermarket holders are generally less expensive than a new gun safe with built-in features, offering a budget-friendly way to upgrade your existing setup.
Versatility
Many aftermarket solutions are designed to be compatible with a variety of gun safe brands and models, providing a versatile solution for all your storage needs.
Final Thoughts
Having a pistol holder in your gun safe is not just a matter of keeping things tidy; it's about optimizing space, ensuring quick and safe access to your handguns, and keeping them in pristine condition.
Whether your gun safe comes with built-in handgun organization features or not, considering aftermarket solutions opens the door to customization, scalability, and versatility, making it a worthy addition to any firearms storage strategy.